Kansas hopeful Jalon Daniels (injury) will play vs. Texas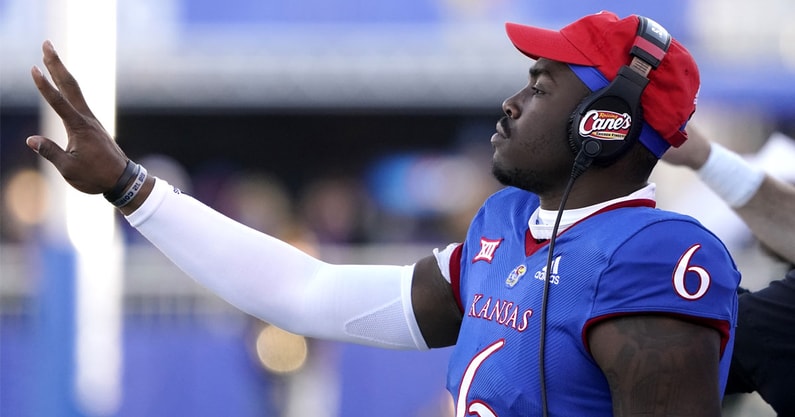 Kansas has been without its starting quarterback since a loss to TCU on Oct. 8, but coach Lance Leipold provided a Jalon Daniels injury update on Monday, hopeful his starter can return before season's end.
If all goes well, Daniels might even be able to return in time for this weekend's game against Texas.
"We've got two regular-season games left," Leipold said, according to reporting from the Kansas City Star. "Hopefully he's going to be able to be out there for one or two of them."
Daniels helped lead Kansas to a 5-0 start to the season before he was injured in a loss to TCU in early October. He has not played since.
But Kansas' quarterback question marks have been further compounded by an injury to backup quarterback Jason Bean. Bean left this weekend's loss to Texas Tech after taking a shot to the midriff.
Getting Daniels back would obviously alleviate some concerns about Bean's availability.
"He's taking more and more reps. He went today (at practice)," Leipold said. "He's at the point (where) he can play at a level that is going to allow him to go out there and play freely. Is he ever going to be 100% (this season) like he was at the beginning? No, but where's that at?"
Kansas still monitoring Jalon Daniels injury
It's clear the Jayhawks are keeping a close eye on Jalon Daniels' injury status ahead of Saturday's game against the Longhorns.
A talented dual-threat prospect, Daniels can be a significant difference-maker.
So far this season through six games, Daniels has gone 78-of-117 passing for 1,072 yards with 11 touchdowns and just one interception. He has also added 53 carries for 335 yards and five touchdowns.
Leipold and his staff are constantly talking about when he might return.
"If it's not a daily conversation (about Daniels' availability) it's every other day as we talk and look at it," Leipold said. "If you are watching him in warmups you can see it's really, really close, but there's a lot of factors that continue to go into that and that's the best way to say it."
Kansas and Texas are scheduled for a 3:30 p.m. ET kickoff on Saturday with a broadcast on FS1.