Jared Casey, Applebee's team up for commercial after two-point conversion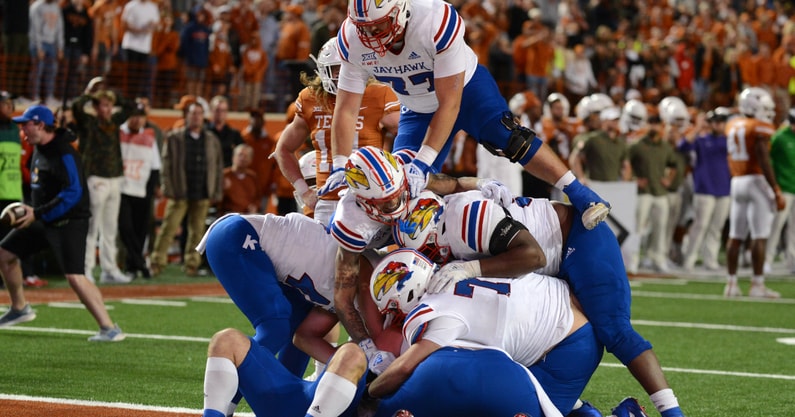 Kansas fullback Jared Casey went from an unrecognizable name to college football fame with one legendary reception. Now, it's paying off in the NIL marketplace.
Casey, a freshman walk-on fullback from Plainville, Kansas, became the media darling of college football against Texas on Saturday. The Kansas Jayhawks traveled to Texas having never beaten the Longhorns in Austin; furthermore, the Jayhawks had not won a Big 12 road game in 56 tries, a streak that dated back to 2008. But that all changed when Casey, who had never before caught a pass in his Kansas career and never once played an offensive snap as a Jayhawk, reeled in the game-winning two-point conversion in overtime.
As previously reported, Casey began shooting a television commercial for Applebee's in Kansas after the career-defining two-point conversion. The commercial, released on Thursday, features Casey fielding questions from the media after his game-winning catch, one of which is where he went after the catch.
"Where am I going? I'm going to Applebee's," Casey said, before receiving two entrees and two appetizers from a waitress. "Hey, you've always got to go for two."
Casey's parents celebrate game-winning two-point conversion catch
Following a touchdown run that cut Kansas' deficit to 56-55 in overtime, the Jayhawks decided to go for the two-point conversion instead of kicking the extra point. On the two-point try, Kansas quarterback Jalon Daniels threw a pass to Casey, who made the tough catch in the endzone and lifted KU to a thrilling 57-56 upset win in Austin.
While the final play was unfolding, Jared's brother, Justin, was filming on his phone – and he was able to capture video of his brother making the big play. Perhaps the best part of the video is the commentary in the background, which comes from Casey's parents – Jerry and Karen – celebrating their son's big moment.
"That was Jared, wasn't it?!," you can hear Casey's father ask in excitement. "That was Jared!"
Once the score was confirmed, and it was in fact Jared Casey who scored, his parents and brother jumped around celebrating with happiness.
Casey, a 6-foot, 254-pound native of Plainville, Kansas, also received a shoutout from ESPN college football analyst Kirk Herbsreit on Twitter.
"Congratulations," Herbstreit said. "What a moment for him and his team. All that work and sacrifice fulfilled in the blink of an eye. Awesome. Here's to many more moments for him and the Jayhawks like last night."