Lance Leipold on coaching vacancies: Certain jobs are for certain people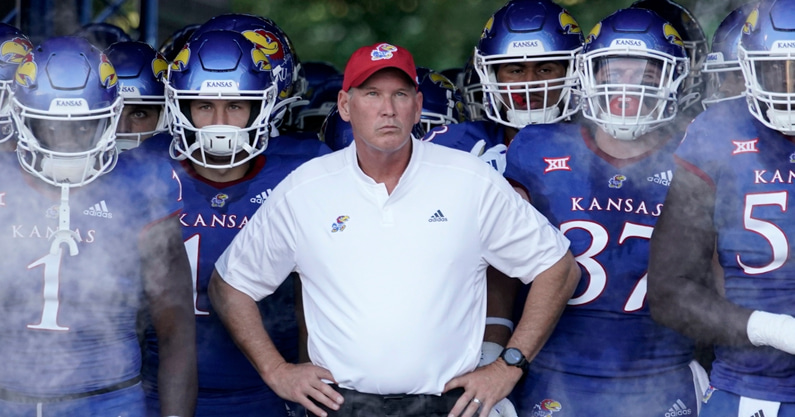 The 2022 coaching carousel is already in motion. One of the hot names to take a new job has been Lance Leipold. In a season and three games at Kansas, he's gone 5-10, but that record needs context. Kansas is one of the toughest Power 5 jobs and the Jayhawks are at 3-0 for the first time in more than a decade. So, despite his overall record, people see Leipold as one of the top coaches in the sport.
While speaking to Fox Sports' Joel Klatt, Klatt told Lance Leipold that he hopes the coach stays at Kansas. In part, as Klatt explained, he doesn't feel like it's fair to players to speculate on job openings. However, he also enjoys seeing what Leipold is building and wants people to see you don't have to leave for the next big job to succeed.
"We'd love to have [Big Noon Saturday] all of you," Lance Leipold replied.
CLICK HERE to subscribe for FREE to the On3 YouTube channel
"And with your statement there, which I appreciate, I could not agree with you more. And, you know, certain jobs are meant for certain people," Lance Leipold continued.
"I've kind of been a sports junkie and a sports fan my whole life. But if you look at Buffalo and Kansas aren't on everybody's list to throw on a resume, but I feel that these are jobs that fit for the right reason and the right challenges. And the good Lord puts us here for a reason, and my wife and my family are extremely happy here. And as I said, we expect to be here a long time."
Prior to coming to Kansas, Lance Leipold was the head coach at Buffalo, a MAC school. There, he built them into a conference power, going to three straight bowl games and playing for the conference championship twice. Before that, he coached at Wisconsin-Whitewater, a Division III school, where he won six national championships.
As of right now, there are two schools that have already fired their coach, Nebraska and Arizona State. Many people, including the likes of Urban Meyer, think he should be on the shortlist for those jobs and whatever else might open up.