Report: Jalon Daniels a game-time decision Saturday against Texas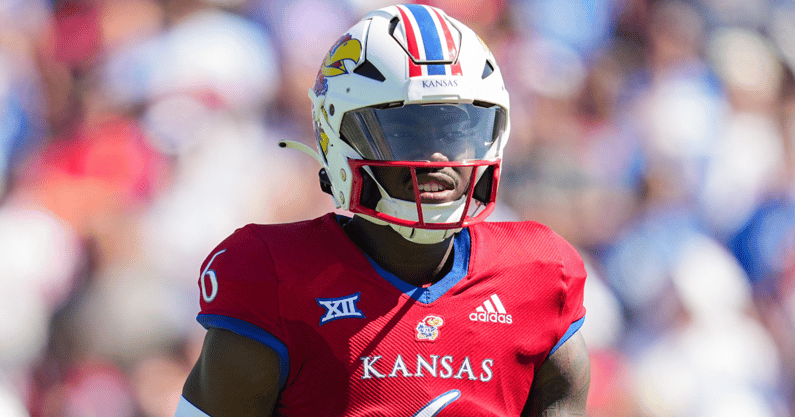 Kansas football may have star quarterback Jalon Daniels return to the lineup for today's game against Texas. According to ESPN's college football insider, Pete Thamel, the Jayhawk quarterback will go through pregame warmups and will try to play, though a decision won't be made until game time (kick time at 2:30 p.m. CT). Here was Thamel's report from Twitter:
"Sources: Kansas star Jalon Daniels has upped his practice reps this week and looms as a game-time decision against Texas today. Daniels hasn't played since injuring his shoulder against TCU on Oct. 8. A decision on Daniels will be made after warm-ups."
Very positive report that Daniels has practice this week and is trying his best to play. Ultimately, he could be a no-go but that's far from decided yet.
As starter for Kansas, Daniels led the program's best start in 15 years, winning the first five games of the season before he went down in the TCU loss, which was the first of the season. So, in games Daniels has started and finished, Kansas is undefeated. With a reeling Texas squad coming to town, getting him back would obviously be a massive boost.
Lance Leipold hopeful Daniels returns this year
"We've got two regular-season games left. Hopefully he's going to be able to be out there for one or two of them," head coach Lance Leipold said, according to reporting from the Kansas City Star.
"He's taking more and more reps. He went today (at practice)," Leipold said. "He's at the point (where) he can play at a level that is going to allow him to go out there and play freely. Is he ever going to be 100% (this season) like he was at the beginning? No, but where's that at?"
Even if Daniels does return, he won't be at 100% like he was to start the year. But he and the Jayhawks just want to see a return of any kind, even if he is a bit limited.