Lance Leipold shares status of quarterback Jalon Daniels for Texas game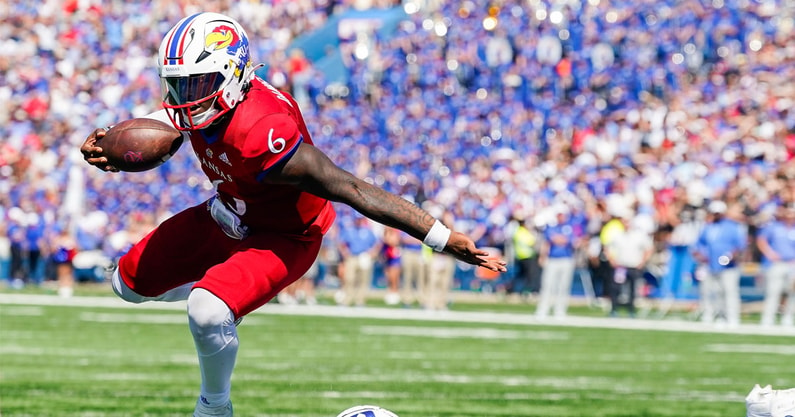 Texas is still clinging to narrow hopes of a Big 12 Championship Game appearance, but the Longhorns will need some help. And they might be facing a Kansas team this weekend returning some serious firepower, depending on the status of quarterback Jalon Daniels.
Daniels hasn't played since a loss to TCU on Oct. 8, but Kansas coach Lance Leipold made it sound like there's a chance he returns.
"Yeah, he's taking more and more reps. He went today," Leipold said on Monday. "Kind of he's at the point where he can play at a level that is going to allow him to go out there and play freely. Is he ever going to be 100% like he was at the beginning? No. But where is that at?"
If it's enough to go against Texas, the Longhorns could have a significantly more difficult task this weekend.
Daniels, in the first six games of the year, went 78-of-117 passing for 1,072 yards with 11 touchdowns and just one interception. He has also added 53 carries for 335 yards and five touchdowns.
Leipold and his medical staff have monitored his status closely.
"If it's not a daily conversation, it's every other day as we talk and look at it," he said. "If you're watching him in warmups you can see, it's really, really close. But there's a lot of factors that continue to go into that, and that's the best way to say it. You know what? Hoping that, we've got two regular-season games left, so hopefully he's going to be able to be out there for one or two of them."
Status of quarterback Jalon Daniels a significant factor Saturday
The Longhorns will enter Saturday's game as a 9.5-point favorite over the Jayhawks, but the status of quarterback Jalon Daniels throws some uncertainty into the equation.
Texas still has an outside shot of reaching the Big 12 Championship Game, needing to win out and then have both Kansas State and Oklahoma State lose a game.
But, again, Texas has to take care of its own business first.
Even though Texas is coming off a hard-fought loss to TCU, coach Steve Sarkisian believes his team is entering Saturday's game with a good deal of confidence.
"I think that's what good teams do. You start to find your rhythm. You start to find your calling card on either side of the ball," Sarkisian said. "And they got a lot of confidence to build off of. This is another great challenge, a unique challenge; a different one for them.
"Inevitably, we've kind of got a standard at which we want to play at defensively, from an aggressive nature and effort standpoint of physicality. A population of the ball, and then, obviously, trying to eliminate some of the explosive play. I think we did that, for the most part, the other night. It was unfortunate that we gave up the two big plays. But, I think there's a lot of things for them to build on and to carry with them on the road that's going to be needed. I think really good teams play complementary football, and they're good in all three phases."
Texas and Kansas will meet Saturday for a 3:30 p.m. ET kickoff on FS1.