5-star Aaron Bradshaw, a Kentucky signee, draws rave reviews from fellow McDonald's All-Americans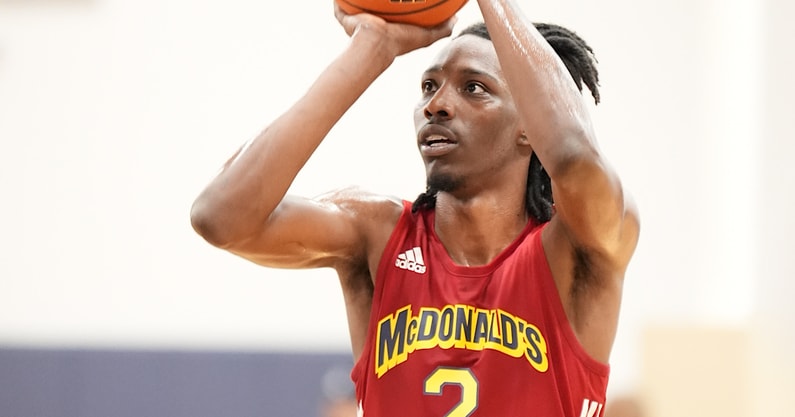 Aaron Bradshaw is the No. 4 player in the 2023 On3 Industry Ranking. The 7-foot-1 center took a huge step this season, from being a four-star who intrigued just a year ago to being ranked among the top ten players in the country across the board. 
Bradshaw's high school career culminated with a selection to the 46th annual McDonald's All-American game, along with Camden (NJ) High School teammate DJ Wagner. Like Wagner, Bradshaw also has signed with John Calipari at Kentucky. 
Throughout the course of the McDonald's All-American Media Day, players were asked to pinpoint one player who impressed them the most. It is always interesting to hear how the players answer this question. The players are together for multiple days, going through practices, scrimmages, and some community service projects. They see the stuff the NBA Scouts and selected media do not.
Throughout the course of the day, one name continued to be mentioned, Aaron Bradshaw.
What they said
Five-star C Xavier Booker: "Definitely Aaron Bradshaw, for sure. I've never really played against him; actually, I did play against him in Virginia, but I didn't really guard him. I got to guard him yesterday, and he's really good, definitely versatile."
Five-star SF Mackenzie Mgbako: "AB (has impressed me). I already knew how he played because I played AAU with him. But I feel like he grew tremendously throughout the year, being able to hit shots. He's shooting it better and taking a better shot selection."
Five-star PF Kwame Evans: "I'd probably say Aaron Bradshaw (impressed me this week). Being able to shoot it like that with how tall he is. He's taller than me and can shoot it; that's crazy. He was doing this one drill where he came down and made five straight threes from the corner; that was crazy."
Five-star PF Sean Stewart: "Aaron Bradshaw (has impressed me). I never got to play against him. I've seen him before, but I never really got to watch his games. But he's way bigger than I thought he was. He's like 7-foot-2, and he can shoot really well. It's been cool playing with him."
In Bradshaw's words
"I'm an energetic guy, always laughing, always smiling, and pumping everyone up," Bradshaw said. "I try to be the leader. (Coach Calipari) told me that I'm going to have to stretch the floor. But I'm not like the old-time big. I'm a new-time big; I like to stretch the floor. I can shoot and dribble. I can do it all. He has just told me to be consistent and be who you are."
John Calipari on Bradshaw
"The most impactful trait we can have on the defensive end is the ability to block shots, and Aaron is elite at that," Calipari said in a press release after signing day. "He also has the tools that a versatile big in today's game needs. Aaron's motor continues to improve, and he has great size and mobility. As a 7-footer, he can change the game on both ends of the court. He has a high ceiling and has only begun to scratch the surface of the kind of player he can be."