Aaron Bradshaw signs with Kentucky Wildcats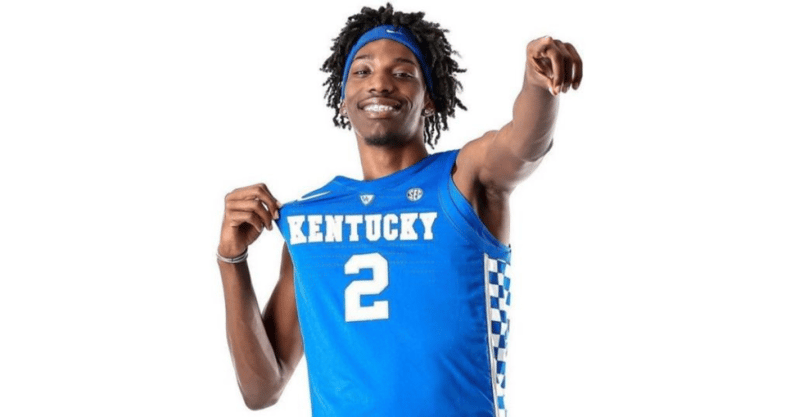 On3 Consensus five-star recruit Aaron Bradshaw has made it official, signing his National Letter of Intent to Kentucky.
The 7-foot-1 center out of Camden (N.J.) High committed to the Wildcats in October, beating out Louisville, the G-League, and others.
Kentucky has a four-man class in 2023. Joining Bradshaw are five-stars Justin Edwards, Rob Dillingham, and four-star Reed Sheppard.
Bradshaw ranks as the No. 3 overall prospect in the 2023 class, according to the On3 Consensus, the average ranking from all four major recruiting media companies. On3's evaluators are even higher on him, ranking him as the No. 1 overall prospect in the country.
Why Bradshaw chose Kentucky
"Kentucky is home for me," Bradshaw said to On3. "I felt the most comfortable there. It's the best fit for me and has my best interest. I just want to get there and work hard to get where I want to go."
Scouting Summary
Aaron Bradshaw has a long and lean frame. A legit 7-foot-0, there is a lot of skill involved in Bradshaw's success. He is a smooth shooter off the catch with range extending out to the three-point line. He cuts hard off the ball and can knock down elbow jumpers off the catch. Bradshaw can attack in straight lines off one and two dribbles. Bradshaw is stiff in the hips, and his lower body leads to questions about his ability to open up and move laterally. He will need to add significant strength to his core and lower body. There is a lot of vertical pop; Bradshaw is a vertical spacing threat from the dunker spots and as a rim runner. Despite the thin frame, he is willing to stick his nose into the mix at the rim. He rebounds with two hands and is a natural shot blocker. Bradshaw is trending as a top three or four center in his class. – On3's Jamie Shaw, National Recruiting Analyst