Antonio Reeves says hitting big shots felt 'great'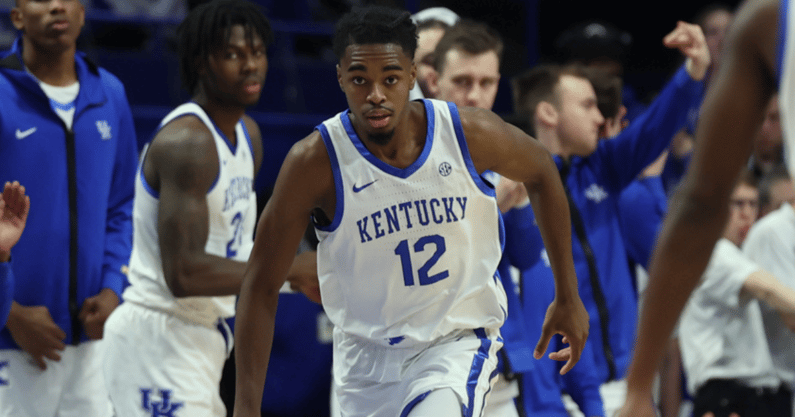 As Kentucky has found its groove over the last two weeks, senior guard Antonio Reeves has found his too. The transfer from Illinois State was expected to be a shotmaker for the Wildcats this season and, now that they're dropping, he says there's no better feeling.
Reeves felt really good about his shots going in, especially the big ones, following Kentucky's latest 76-67 victory over Texas A&M. He says it's the result of his hard work making a difference on top of an increased comfort level that he now has out on the floor.
"Man, it felt great," said Reeves. "I've been working hard and it felt like it paid off as soon as I got in the game. Some of them were open. So I was able to take my time, just relax while I was out there, and they ended up falling."
Reeves helped lead the Wildcats to their victory over the Aggies. He scored a team-high 23 points on 8-17 shooting, including 5-11 from three-point range. In the end, he was instrumental in Kentucky's 13-6 stretch over the final four minutes. He made a tough running floater with 2:03 left and then another floater down the lane to push the lead to six with a minute and a half to go.
Reeves is now on a five-game stretch where he has scored in double figures. He has averaged 17 points per game on 44.7% shooting from the field and 35.2% from deep in that time. That has pushed him up to second on the team in scoring. For the season, he is now averaging 12.7 points per game on 41.3% from the field and 39.6% from distance.
Kentucky had reached a point where they desperately needed offense. While the unit has been cleaner as a whole, Reeves has also been a spark plug for them whether he has started or come off the bench. Now, the Wildcats hope he stays hot as they look to keep their new winning ways going in the SEC.