Bob Stoops defends brother amid Kentucky coaching feud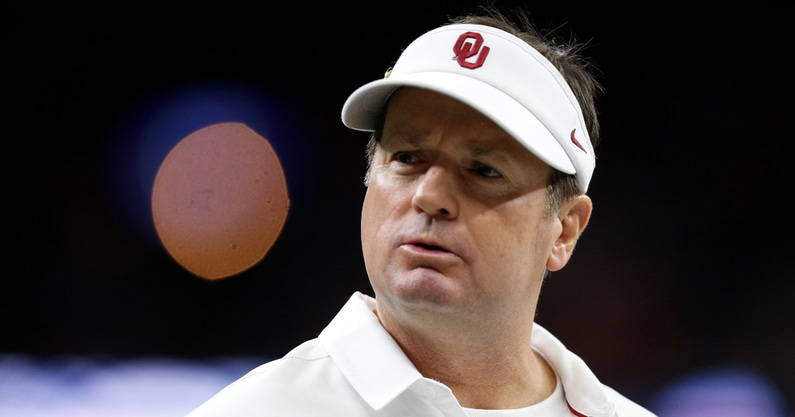 As the buzz surrounding the Kentucky coaching feud is beginning to die down, Mark Stoops' brother and longtime Oklahoma headman Bob Stoops made sure to weigh in on the situation during a recent appearance on The Morning Animals Podcast.
"I'm not gonna get in the middle of any of that," Stoops said about his brother's feud with John Calipari. "They both have good points and truly though, someone was asking me about whatever, I said there's no reason you can't. The best schools do well in both and succeed in both, and let's face it, I don't know – you know, there's a lot of money in college football – I'm not so sure when was the last time there's been conference realignment talks around basketball?
"That would be never."
Obviously Bob Stoops is playing favorites for his brother, Mark – and that's understandable. But the jab at college basketball afterward was the icing on the cake, and certainly got a reaction out of the show's hosts.
Stoops isn't wrong, though. There's been more shakeup within college football conferences in the past several seasons that hasn't been seen on a scale since conferences were implemented decades ago. While the realignments will translate over to basketball, for example, the aura of a football game between Texas and Georgia would be a marquee game of any season, while that same game in basketball probably wouldn't sell out either program's respective venue.
The situation that brought Stoops on the topic in the first place was when head basketball coach John Calipari declared Kentucky a "basketball school" that is in need of a new practice facility – comments of which Mark Stoops didn't take kindly to.
The comments have divided Big Blue Nation just weeks ahead of the 2022 college football season. Though, Mark Stoops has said Calipari's comments will not derail their efforts to have yet another successful season as Stoops enters his 10th season as UK's headman.