4-star EDGE Brian Robinson is a top target for Kentucky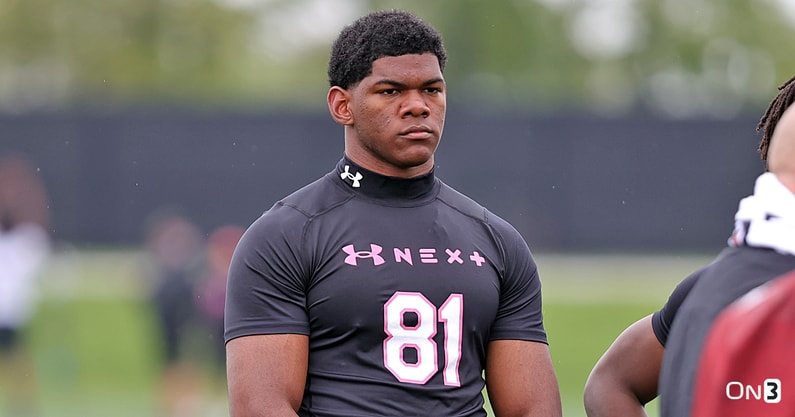 Kentucky recently landed a massive boost in the 2024 cycle by getting a commitment from Hodgenville (Ky.) Lexington Christian Academy four-star quarterback Cutter Boley. The Wildcats are looking in Ohio in the hopes of landing another talented recruit, Nick Roush of KSR said on the On3 Roundtable.
Austintown (Ohio) Austintown Fitch four-star EDGE Brian Robinson has already visited Kentucky multiple times. He will be back in Lexington for an official visit on June 9.
"EDGE rusher, that position is a premium," Roush said. "Defensive coordinator Brad White, that's his speciality. He made Josh Allen the No. 7 overall pick in the NFL Draft. If that, the connection with Vince Marrow to Youngstown (Ohio) and Mark Stoops and Co., that should be able to put them over the top. Hopefully, Boley gives them enough shot in the arm to build some momentum and land a blue-chip recruit."
According to the On3 Recruiting Prediction Machine, Michigan is leading for Robinson's commitment at 70.2%. He is taking an official visit to Ann Arbor on June 2, as well as Penn State on June 16.
"Michigan has really come into Ohio and messed with Vince Marrow's recruiting efforts," Roush said. "Since their playoff push, they've taken that second-tier guy that Ohio State has seemingly passed on. Now, you've got an instance where Vince Marrow's got a connection. Kentucky's recruited well out of Youngstown. They've gotten Brian Robinson on campus quite a bit."
**Subscribe to the On3 Roundtable for more expert opinions**
Robinson is a priority recruit for Kentucky this cycle
Landing Robinson would mark a massive win for Stoops and Co. Kentucky's 2024 recruiting class is currently No. 26 in the 2024 On3 Industry Team Recruiting Rankings and contains three players: Boley, Independence (Ky.) Simon Kenton three-star interior offensive lineman Aba Selm and Campbellsville (Ky.) Taylor County three-star offensive tackle Hayes Johnson.
Robinson recently told On3's Chad Simmons that he is "a lot closer" to making his commitment. The 6-foot-5, 228-pound pass rusher has been impressed by the Wildcats' staff and shared that he speaks with Stoops and White among others.
"When I walk into Kentucky, it's like I'm home because there's so many Youngstown (Ohio) coaches there, so many Youngstown people there," Robinson said. "When I walk into Kentucky, it's not even football. It's like, 'Hey, how are you doing B-Rob?' They're saying they can help me with anything I need and to make myself at home. They ask me if there are any questions they can answer and anything I need that I don't understand. They're just super welcoming."
Robinson is the No. 153 overall prospect and No. 11 EDGE in the 2024 cycle, according to the On3 Industry Ranking, a weighted average that utilizes all four major recruiting media companies. He is also the No. 4 player in Ohio.