Buzz Williams shares challenges of defending Oscar Tshiebwe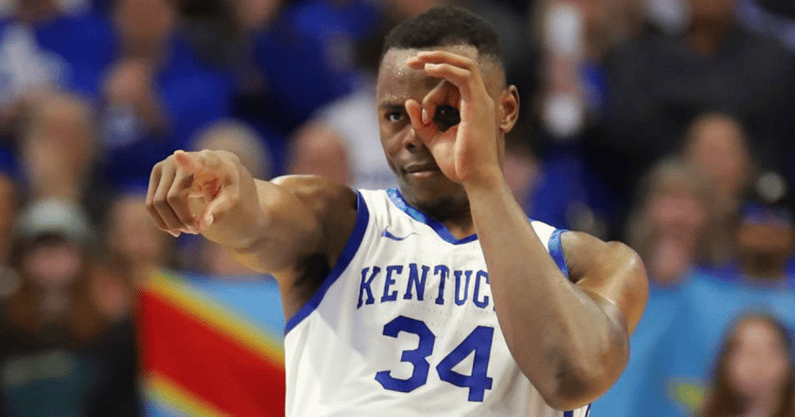 Even as he dealt with foul trouble in the first half, Kentucky center Oscar Tshiebwe got loose again in the Wildcat's latest 76-67 victory over Texas A&M. Considering how he got it done against the Aggies, Buzz Williams said there wasn't much they could do with the reigning National Player of the Year.
During his postgame press conference, Williams said the sheer percentage of offensive rebounds Tshiebwe accumulates is what makes him such a load. Whether he rebounds one of his own misses or one of his teammate's misses, Williams said the work Tshiebwe and Kentucky did in the lane was just too much for A&M in the end.
"He's just so dominant at the rim. His offensive rebound percentage is 20.4%. Just his! Like, there are teams in our league that don't have that. So, that's what he's doing after the ball is shot," said Williams. "Obviously, we were struggling to figure out a way to stop him before the ball was shot. But, if you look at a lot of his baskets, percentage-wise? When he gets fouled and when's scoring at the rim? A high percentage of it is coming off of someone else's misses. Sometimes it's even his."
"When they're playing in the channel, it's almost like really good baseball," Williams said. "They just put so much stress on us."
Tshiebwe sat for half of the first half with a pair of fouls. That limited his production in the first 20 minutes to zero points and only three rebounds. However, he came back in the second half and dominated for the Wildcats. He scored seven points and 14 rebounds in the final half alone as he finished the day with 17 boards.
Tshiebwe's passing got his teammates involved out of A&M's double teams as he shot the ball only five times on the afternoon. However, if you want to know how the Aggies limited him so much? Williams points only to Tshiebwe's time on the pine.
"I would say a little bit to defending is he was in foul trouble in the first half. So he probably didn't get the possession count he normally does," Williams said.
Few times have found much success in slowing Tshiebwe down. While he didn't have as much production in the box score as usual, he still did enough in the second half to get Kentucky over the line and earn them their third straight victory.