Chris Rodriguez: Kentucky experts align on potential suspension length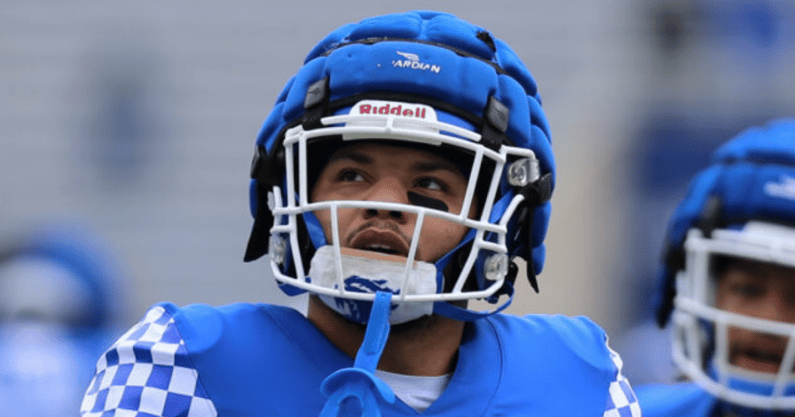 Kentucky running back Chris Rodriguez, one of On3's Impact 300 Top 10 College RBs, has had a rough offseason away from the gridiron. He was arrested on May 8th for a DUI and careless driving in Lexington. After a miscommunication, no one appeared in court on his behalf. An arrest warrant for Rodriguez was then filed but later set aside.
Kentucky Sports Radio's Matt Jones at one point described Rodriguez's future at UK as "up in the air". With that in mind, those following the program began to question when or if Rodriguez would rejoin the roster. In an update on the Wildcat running back, Nick Roush, KSR's football beat writer, shared his own insight on the matter.
Per Roush, Rodriguez has recently been seen around the Wildcat's training facility. UK football players are scheduled to come back this week to start summer training.
As far as missed time, he expects Rodriguez to debut at some point during the '22-'23 schedule. It just likely won't be at the start of the season for Kentucky. First and foremost, he has legal matters to settle before the Wildcats open their season September 3rd. Once that is resolved, a team suspension is likely to follow. In Roush's opinion, he sees it being worth around four games.
Mark Stoops could have the next update himself come SEC Media Days in July unless any new developments unfold. Until then, Rodriguez's availability for next season will remain a massive question mark for UK.
Questions arise about Chris Rodriguez's availability in 2022
Kentucky running back Chris Rodriguez was recently arrested for careless driving and driving under the influence. Now, his future with the Wildcats program could be in question.
According to KSR's Matt Jones on Friday, Rodriguez's future at Kentucky is "up in the air."
"I would say it's up in the air what the future of Chris Rodriguez will be at Kentucky," Jones said on KSR on Friday. "I don't think it's decided. To be honest with you, I'm not sure what this is. Something has occurred that isn't related to the DUI that could end up where he is not on the team.
"Even if he is on the team, I think it is almost certain he will not be playing in the first few games," he added. "He may not play all year, but would almost certainly not be playing in the first four or five games, which would include the Florida game."
Rodriguez has been at Kentucky for four seasons, and he has turned into a valuable weapon out of the backfield for the Wildcats. He rushed for 533 yards and six touchdowns as a second-year player in 2019, and turned in a solid campaign with 119 carries for 785 yards and 11 scores in 2020. Last year, Rodriguez turned into a star for Kentucky with 225 carries for 1,378 yards and ten touchdowns. He also had 13 receptions for 61 yards and three scores last season.
Following Rodriguez's arrest in Fayette County, Kentucky, he was due to appear for his arraignment. He did not appear, leading to a warrant for his arrest and a $200 fine on top of that.
Later on, though, it was revealed that Rodriguez not appearing in court was due to a mishap by his attorney. His attorney had a scheduling mishap, and told Rodriguez not to appear. After the mishap, his new arraignment date was pushed back.
Now, all eyes are on Rodriguez and whether or not he will make it to the field for Kentucky next season. If he doesn't the Wildcats will be without a vital weapon in the First Team All-SEC running back, which would be a massive blow.
Kentucky opens the season on September 3 at home against Miami (OH), and then hits the road for its SEC opener against Florida in Week 2.