WATCH: Daimion Collins displays insane vertical, blocks 3-pointer in Bahamas matchup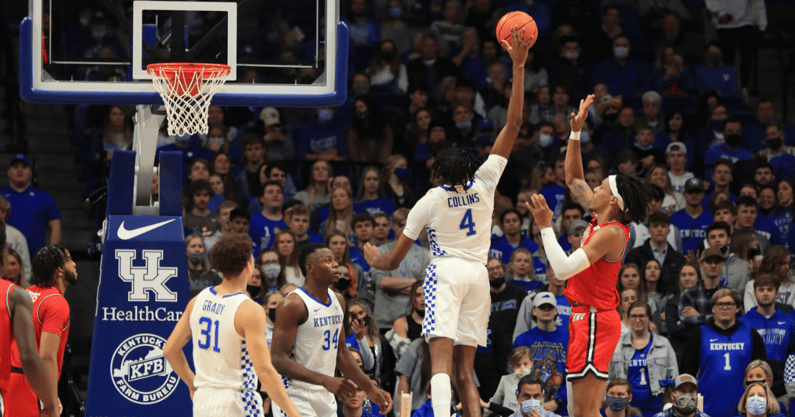 It's the Daimion Collins show in the Bahamas this week. After providing two highlight dunks during Wednesday's blowout win over the Dominican Republic, the Kentucky sophomore showcased his blocking ability on the perimited in Thursday's matchup against Monterrey Tec (Canada).
As a freshman, the former consensus five-star recruit appeared in 27 games for the Wildcats, including one start against North Florida in which he dropped 12 points, six rebounds, and three blocks — arguably his best outing of the year. He averaged 2.9 points, 2.0 rebounds, and 0.7 blocks in just 7.4 minutes per contest, falling out of the rotation once SEC play rolled around.
Heading into the 2022 season, Collins will slide into a stretch four role for Kentucky, as Wooden Award winner Oscar Tshiebwe will man the paint down low. Collins will share time with fellow power forward Jacob Toppin – someone else who is capable of highlight reel dunks as well.
Catch the remainder of Kentucky's second game in the Bahama's live on the SEC Network or ESPN+.
Kentucky football player reacts to John Calipari's 'basketball school' comment
John Calipari is relaxing in the Bahamas right now, preparing for what he hopes to be another 50-point beatdown during the Big Blue Bahamas four-game tour. Ahead of Thursday's game, Calipari discussed how Kentucky is historically a basketball school – and believes his program deserves the best, no matter how much other programs, like football, succeed.
These comments seem to have been taken personally to the Kentucky football team. The backlash started with head coach Mark Stoops responding on Twitter about Calipari's comments, and his players have since followed. None, however, are as blatant and savage as defensive back Vito Tisdale's.
"[John Calipari], check dis out, Y'all crapp .. we run the bluegrass yall boys went out first round to saint Peters Lmaoo," Tisdale wrote in the since deleted tweet. He also tagged two of his teammates, Octavious Oxendine and JJ Weaver.