Kentucky OL Dare Rosenthal announces plan for future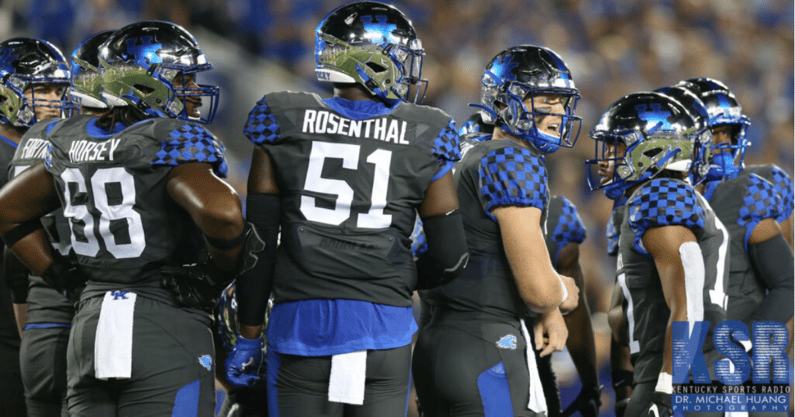 Dare Rosenthal is leaving the Kentucky Wildcats and headed for the NFL, according to his official social media accounts.
Rosenthal started in 12 of 13 games for the Kentucky Wildcats in 2021 after transferring from LSU.
"First, I want to thank God, without God none of this would be possible," Dare Rosenthal said in the announcement. "These last three years at Kentucky and LSU, two great institutions, have been unforgettable and a blessing. I would like to thank Coach O, Coach Stoops, and the rest of both staffs for recruiting me and developing me into the man I am today. I can't be more thankful for you guys.
Most importantly, I would like to thank my family and everybody from the 318 for the unconditional love, support and motivation. I wouldn't be here today without each and everyone of y'all."
It won't be an easy task to replace Dare Rosenthal, but his departure shouldn't be a huge surprise for Stoops and Kentucky fans.
UK's offensive line was tabbed the "Big Blue Wall", which was one of four finalists for the Joe Moore Award which recognizes the top offensive line unit in college football. The unit will now have to replace both starting tackles in Rosenthal and two-time All-American Darian Kinnard, as well as starting center Luke Fortner.
Dare Rosenthal was the top offensive linemen coming out of high school and began his career at LSU.
"He's a tremendous player," former Tigers' coach Ed Orgeron said at the Southeastern Conference's Media Days in July. "I hate to lose him. … He didn't want to leave. It was hard on him. I think they've got a potential first round draft choice there. And Dare knows he's got some stuff he needs to get better at, and I'm sure Kentucky's going to see that. He's a great young man, a great team player."