Five-star center Ugonna Kingsley commits to Kentucky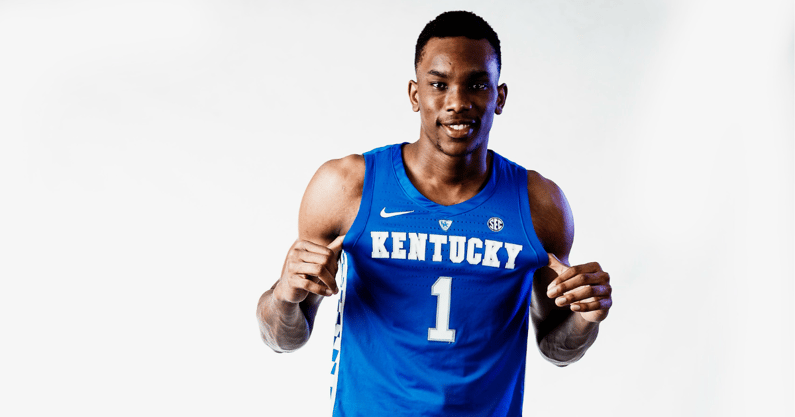 Class of 2022 five-star prospect Ugonna Kingsley has committed to the Kentucky, he tells On3.
The 6-foot-11, 215-pound center from Putnam (Conn.) Science Academy chose John Calipari and the Wildcats over the likes of Oklahoma, Oklahoma State, and Tennessee.
Kingsley recently made the decision to reclassify from the 2023 class into 2022 and therefore will enroll in Lexington this fall. With the Nigerian big man headed to UK a year early, he will be joined by a pair of five-stars in Chris Livingston and Cason Wallace. Three-star Adou Thiero and Illinois State transfer Antonio Reeves are the other two newcomers to Kentucky this offseason.
On3's evaluators are higher than the industry on Kingsley, ranking him 18th overall in the class of 2022, thus earning him five stars. He ranks as a four-star and 26th nationally according to the On3 Consensus, the average ranking from all four major recruiting media companies.
Kingsley on choosing Kentucky
Kingsley says his ultimate reason for choosing Kentucky was the fit.
"My reason for choosing Kentucky is because I know I'd fit in their style of play, their positionless offense, and how fast they play," Kingsley said to On3. "I know I'd fit in their system of play because they play my kind of game."
Along with matching Kentucky's style of play, Kinglsey said in a previous interview with On3 that he's always wanted to play for the Wildcats.
"I have been wanting to go to Kentucky all my life, even before coming to the states," he said. "I know Oscar Tshiebwe is also from Nigeria, it means a lot he has had great success there."
Scouting Summary
You immediately see the size, length, and fluidity in how Ugonna Kingsley moves. The hips are loose, the feet are quick, and the leaping is explosive. On the defensive end, he is a natural. The timing is excellent at the rim and in the passing lanes. He can also fluidly move his feet when he switches onto a perimeter player. His defense is ahead of his offense at this point. At Putnam, they use him a lot from the high-post and elbows as a screener and ball-mover. He has touch but will need to continue developing confidence in the shot. The ball skills and vision will have to continue to tighten, but he runs the floor very well, changing ends at the drop of a time. There is touch at the free throw line, and he is showing more comfort finishing with his back to the basket. He has finished with double-figure blocks in multiple games we have live scouted this season. The defense is high level. – On3's Jamie Shaw, National Recruiting Analyst