A full breakdown of Kentucky's No. 1 ranked class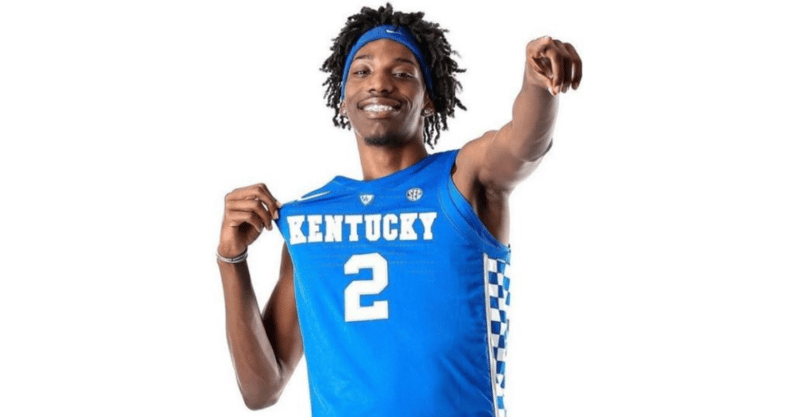 On Monday, John Calipari solidified the No. 1 class in the 2023 Team Rankings on Monday when five-star shooting guard DJ Wagner committed to Kentucky. This gives the Wildcats five players ranked among the top 35 in the 2023 On3 Consensus and four who are in the top ten.
Kentucky has finished with a top-five recruiting class in each of the past ten cycles. Four of those classes (2013, 2015, 2021, and 2023) have been ranked No. 1. The Wildcats' class score in 2023 is 99.194. Aaron Bradshaw and DJ Wagner are each ranked No. 1 in the class by one of the four major recruiting services, and Justin Edwards is ranked among the top five across the board.
Now that the No. 1 class has been signed, sealed, and delivered, let's break down the full Kentucky class.
Five-star C Aaron Bradshaw
Height/Weight: 7-1/210
High School: Camden (NJ) High
2023 On3 Consensus: No. 3
Aaron Bradshaw is the 2023 On3 150 No. 1 ranked player. When looking at the overall landscape of the class, Bradshaw seemed to have the most attainable NBA upside. There will certainly need to be some continued growth, but there were not many questions about how his game translates moving forward.
Bradshaw is a 7-foot-1 center with long arms, vertical pop, and good straight-line movement. During 20 EYBL games this summer, Bradshaw averaged 2.2 blocks. Synergy charted that Bradshaw's primary cover in on defense scored 0.639 points per possession and shot just 37.9 percent from the field.
Offensively, Bradshaw is good as a roll man or in the dunker spots. Where the intrigue lies in his ability to shoot. Bradshaw has a smooth catch-and-shoot stroke from beyond the arc, making him a threat to roll or to pick and pop. He also has a variety of moves from the mid-post, scoring over both shoulders from 12 to 18 feet. Bradshaw will need to continue adding weight, but the upside and skill set is clear.
Five-star SF Justin Edwards
Height/Weight: 6-7/185
High School: Philadelphia (PA) Imhotep Charter
2023 On3 Consensus: No. 5
Justin Edwards has good positional size with long arms and wide-set shoulders. He looks like he will add weight pretty quickly once in a college weight program. Edwards is a high-level connective piece on a championship-winning caliber team.
When watching the five-star play, what stands out immediately is his defense. Edwards' instincts on that end of the floor are excellent. He understands positioning and footwork both on and off the ball. During Nike's EYBL Circuit play this summer, the man Edwards was guarding only scored 0.585 points per possession and shot 30.9 percent from the field. He averaged 2.2 steals through 19 games.
Offensively, Edwards averaged 17.4 points on 48.2 percent shooting. He is efficient in how he scores the ball, proving to be an excellent off-ball cutter and shooting well of one and two dribbles. While Edwards is not much of a threat to break you down off the bounce, he shot 46.2 percent at the rim and 36.4 percent on dribble jumpers. Edwards makes everything run smoothly around him.
Five-star SG DJ Wagner
Height/Weight: 6-2/185
High School: Camden (NJ) High
2023 On3 Consensus: No. 6
DJ Wagner is a tough-minded scoring guard who plays both ends with an aggressive mindset. In the last year, the five-star has won a state championship, a USA Basketball gold medal, and was named Gatorade state Player of the Year. Wagner is an alpha guard who does not mind the spotlight.
Wagner, who is the son of former lottery pick Dajuan Wagner, is a score-first guard who played the majority of the summer with the ball in his hands. He averaged 17.7 shot attempts per game on Nike's EYBL Circuit this summer while shooting 42.5 percent from the field and 27.1 percent from three. Wagner did his most damage when attacking the rim and finishing at the basket. He shot 59.1 percent on shots at the rim, with 46.2 percent of his in-game shots on the EYBL coming from this distance.
Wagner does see the floor better than he is given credit for. He averaged 4.4 assists on the EYBL and 2.9 assists during u17 FIBA World Cup. Wagner's decision-making is an area he will need to improve with. USA Basketball lists Wagner at 6-foot-1, and he is an average vertical athlete. Where he makes up for it is his uber-competitiveness and the quick-twitch first step that gets him into the paint.
Five-star CG Robert Dillingham
Height/Weight: 6-3/165
High School: Atlanta (GA) Overtime Elite
2023 On3 Consensus: No. 8
Robert Dillingham's game has gone viral more than once. His scoring exploits are well documented along with the handle to create space. This summer, with Team CP3 on Nike's EYBL Circuit, Dillingham averaged 18.5 points.
At 6-foot-3 and 165 pounds, Dillingham is a score-first guard. He has a confident handle and an array of counters that get him open. Dillingham is at his best offensively when he is attacking the rim. The five-star scored 1.167 points per possession at the rim this summer and shot 59.8 percent on these shots. On runners or pull-ups from short range, Dillingham shot 56.5 percent, finishing in the 98th percentile among his peers on the effectiveness of this shot.
The majority of shots Dillingham took, however, were from 17 feet extended, where Dillingham made only 32.0 percent. In this range, from two, on the EYBL this summer, Dillingham was 39.4 percent, and from three, he was 27.7 percent. Dillingham will have to improve his decision-making (74 assists to 63 turnovers in EYBL play) to transition to the point. But there may not be a craftier ball-handler or a more confident shot-maker in this class.
Four-star G Reed Sheppard
Height/Weight: 6-2/170
High School: London (KY) North Laurel High
2023 On3 Consensus: No. 31
Reed Sheppard was the Kentucky Gatorade Player of the Year after averaging 25.5 points and 7.6 assists last season. He is closing in on 3,000 career points in high school. Both of Sheppard's parents played at Kentucky. His dad Jeff Sheppard started 65 career games and won two national championships. His mom Stacey (Reed) Sheppard, is a top 15 all-time scorer and No. 6 on the all-time assists list in Kentucky women's basketball.
Sheppard averaged 15.6 points on the Adidas 3SSB Circuit this summer. The 6-foot-2 guard added 4.7 assists and 2.9 steals per game. Sheppard is a combo guard, able to score but willing to pass. He has excellent court vision, able to distribute from each level of the floor. The four-star also averaged 2.9 turnovers and will need to tighten his handle to be a full-time point guard and take better care of the ball as he touches the paint.
Sheppard is a good vertical athlete, and he understands footwork and angles on the defensive end. He is aggressive in the passing lanes and has quick hands when guarding the ball. When guarding in man-to-man this summer, Sheppard's primary guy scored 0.697 points per possession and shot 33.3 percent from the field. He will need to continue getting stronger, but his ability to shoot, pass, and play defense provides a nice foundation on which to grow.