John Calipari discusses Chris Mack's firing at Louisville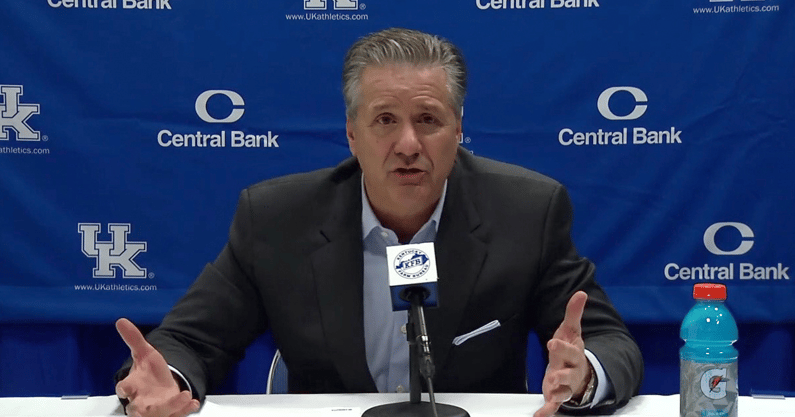 John Calipari was recently asked about the situation unfolding at his in-state rival, with Louisville head coach Chris Mack getting fired earlier this week.
According to Kyle Tucker, who covers the Kentucky Wildcats for the Athletic, Calipari gave a sympathetic response when asked about Mack.
Tucker shared a tweet that quoted John Calipari on Friday.
"I feel bad for he and his family. Coaching is a hard profession," Calipari said. "We're all 30 days from bankruptcy. Everybody in this profession. So I feel bad for him." But he thinks U of L athletics will be fine. "It's an outstanding athletic program."
While it's been widely reported that Mack and Louisville negotiated a buyout worth several million dollars, Tucker added context to Calipari's statement about bankruptcy for clarification.
"Here's an explainer on Calipari's "30 days from bankruptcy" line about Chris Mack," Tucker added. "It's an old saying in coaching circles. And a line Cal has used several times before. Here are examples from 2001 and 2014. He's not saying millionaire coaches are broke."
John Calipari makes odd statement about scoring barrage vs. Tennessee
While the biggest story in college basketball is focused on Louisville and the candidates in play to fill the void left by Mack, the Kentucky front man has his eyes on getting his team ready for a late run.
John Calipari has a young, talented, nationally ranked team which is par for the course when it comes to No. 11 Kentucky basketball. It's a team with the talent to win it all, but the longtime Wildcats' head coach recently had an odd take on one of his team's best performances of the year.
Last Saturday, Calipari's Wildcats put on an impressive performance in a 107-79 drubbing over the No. 18 Tennessee Volunteers. In a recent press conference, the Kentucky front man was asked about his mindset as he watches his team catch fire like it did against Tennessee.
Calipari had a blunt, but odd response.
"I literally did not look at the score until I walked off at halftime," Calipari said. "I knew we were playing well, but I didn't even look up. I called the last timeout just based on time and when we got it to, whatever it was, 20, in the second half I looked up."
For John Calipari, the focus isn't lighting up opponents, but instead, he wants to ensure his team is getting better as the season progresses.
"I'm more concerned with how we play. I'm trying not to make the game a game, because if you do that, you torture yourself and your team. Are we getting better? Our history is that our teams play better at the end of the year. That's the history. And so, is this team getting better? Are individual players getting better? That's my focus. Winning will take care of itself. We got three road games it will be hard to win any of them. So, what if we really play well and you get beat? You've got to move on."