John Calipari shares how his team has grown in practice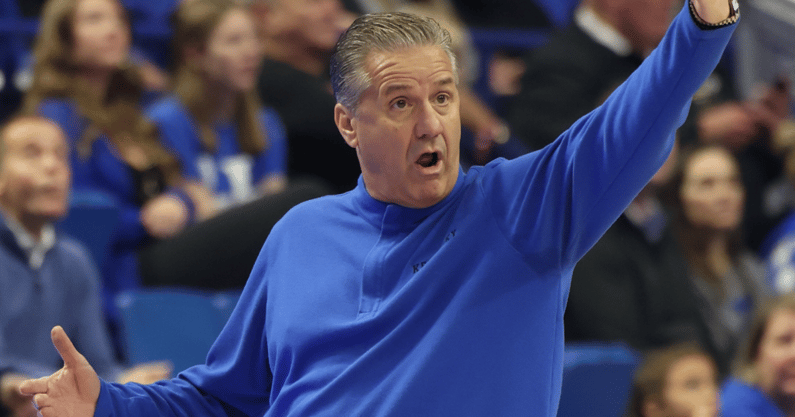 Kentucky has had to head back to the drawing board this week. After last week included a pair of frustrating losses to Michigan State and Gonzaga, many have come out to criticize the Wildcat offense and what they may be working on during practice. However, Calipari again pushed back on that idea during his press conference following UK's win over North Florida on Wednesday.
He says a lot of what Kentucky worked on over the summer and heading into the season was team building. Now that they accomplished that goal, he says it is time to start working on the execution and the key points for his team.
CLICK HERE to subscribe for FREE to the On3 YouTube channel
"It was team camaraderie. So we were running two things. That was it. And everything was about, 'Alright, let's get in shape. Let's fly up and down the court, let's work on spacing.' But, the execution? None of the stuff that we're running now we really ran," said Calipari. "The Bahamas trip is to go play competition. See who will fight in those situations, see who's not afraid to make shots when the lights are on."
His other main point is that Kentucky did not come fully together again until last week. With Oscar Tshiebwe, Sahvir Wheeler, and Daimion Collins missing exhibitions and the start of the season, his roster wasn't able to fully gel with what they were learning. Now that they're all back in the fold, Calipari wants to remind everyone, including the fanbase, what their main goal is.
"When we weren't together with Oscar, Sahvir, and Daimion? That's why I kept saying it's going to take us a little time," Calipari said. "I'm not happy that we lost two games. I want to win every game when I coach."
Kentucky's offense looked great again in their 40-point blowout over the Ospreys this week. Still, the Wildcat faithful want to see it in effect against the big competition. With that being the case, that means Calipari has two weeks to put this all into practice in time for the Wildcats to face Michigan in London to start December.