Oscar Tshiebwe explains how faith factored into his decision to return to Kentucky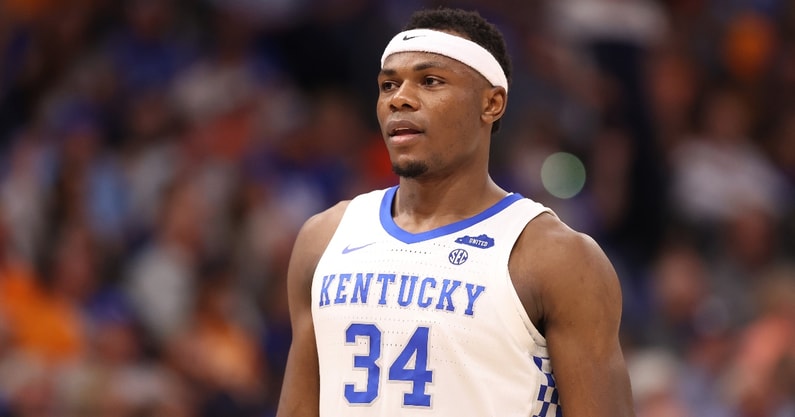 It's no secret that Kentucky basketball star Oscar Tshiebwe had the skills and talent to declare for this year's NBA draft, as he became one of the most decorated players in college basketball history this past season. But, he chose to return to Kentucky for his senior season for a special reason, which he revealed during a halftime interview with SECN's Tom Hart of Sunday's exhibition game versus Bahamas' national team during Big Blue Bahamas foreign tour.
"That was not my decision. Everything I do, I don't do on my own. I always pray if I don't feel so comfortable by doing something is when I hear from God. I was praying to God – my dream is to play in the NBA – but now, the situation is tough. I'm not even projected to be in the first round, but do you want me to leave or do you want me to come back?  The one thing I hear from God, he said, 'I'm not done with you at Kentucky.' So after he had done it, I said I'm going back for God," Tshiebwe said.
Tshiebwe was named unanimous National Player of the Year by Sporting News, the Associated Press, United States Basketball Writer's Association and the National Association of Basketball Coaches as well as winning the Naismith Trophy and the Wooden Award, making him the first SEC player to win all six awards in the same season. He transferred from West Virginia, and took his game to another level when he got to Lexington where he doubled his rebounding totals and nearly doubled his points per game average.
The Wildcats' post-season run was obviously cut short when they were upset in the first round of the NCAA Tournament by Saint Peter's, despite Tshiebwe having his third 30-point outing of the season. It definitely sounds like he has some unfinished business in the blue and white, and hopefully for the Wildcats, they can end Tshiebwe's final senior season off on a better note than last year.

Oscar Tshiebwe discusses how faith helped him become more of a servant, public speaker at Kentucky
Since arriving in Lexington one summer ago, Oscar Tshiebwe has captured the hearts of Big Blue Nation and will go down as one of the most beloved – and dominant – players in Kentucky basketball history. 
In an interview with SEC Network color commentator Tom Hart during halftime of UK's exhibition against the Bahamas' National Team, the reigning Wooden Award winner discussed how he has changed his lifestyle since transferring into the program. 
"I feel like right now I'm doing a lot of great things because I want to really submit on serving people and spending time with God," Tshiebwe said. "I think right now, I'm serving people, and spending more time with God. And I want people to know that God is everything. I want people to know that God has changed my life, he can change their life too. 
"At West Virginia, I was more into basketball and my personal life, but like right now, at Kentucky since I transferred because I went through a lot, God humbled me and I just want to serve Him and stay busy doing the work of God."
That new lifestyle translated directly to the court, which has in-turn made him become a local celebrity in Lexington. What other nationally-prominent athlete leads their school's Christian fellowship group? The answer – not many – and he's doing all for the love of his faith; nothing more, nothing less.