Kentucky's Josh Paschal announces decision about his future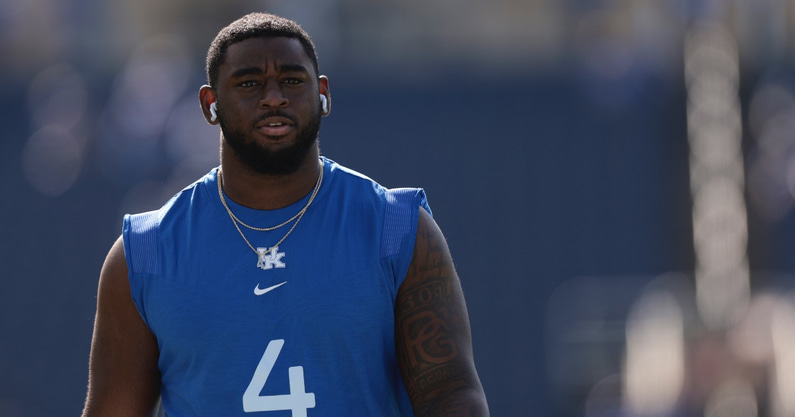 Veteran Kentucky defensive lineman Josh Paschal is heading to the next level, per Nick Rousch of KSR.
On Saturday, Paschal announced he would be declaring for the 2022 NFL Draft. He did not play in the Citrus Bowl against Iowa after re-aggravating an undisclosed injury suffered against Louisville Thanksgiving weekend. His trip to Orlando for the game was delayed due to illness as well. According to the team, he wanted to play, but it did not work out.
The Maryland native had 52 tackles and five sacks this season.
Paschal spent five years in Lexington, and he moved around and played a number of positions. As a freshman, Paschal played linebacker and saw the field in eight games with 16 tackles and 3.5 sacks. In total, he had 137 tackles, 35.5 tackles for loss, 13 sacks and an interception while at Kentucky.
Robinson caps elite season
Wide receiver Wan'Dale Robinson is another Kentucky player likely headed to the NFL.
Robinson transferred from Nebraska to Kentucky this year, and the Wildcats reaped major benefits from it. Saturday's 20-17 Citrus Bowl win was no exception. Robinson had 10 catches for 170 yards and was the MVP of the game.
"It just says an awful lot about him…so tough," Kentucky head coach Mark Stoops said. "The third-down catch he made in the first-half set us up for some points. I have a lot of love and respect for him."
The postseason performance was his sixth game this year with over 100 yards. His last three triple-digit games exceeded 165 receiving yards.
The junior has yet to make a decision about the NFL Draft, but it is expected he will move on to the next level and forgo his remaining college eligibility.
Kentucky now turns to 2022 with a hunger to reach 10 wins once again. They have never had back-to-back 10-win seasons.