Kentucky landing top-70 QB Cutter Boley is 'huge for the program'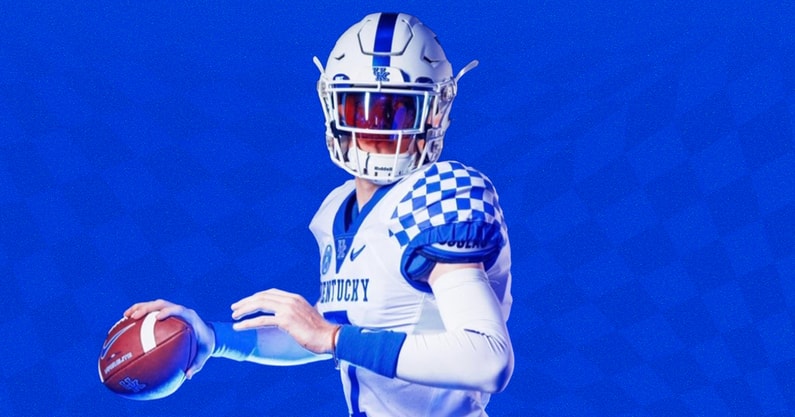 The 2022-23 campaign will mark the seventh-straight season in which Kentucky starts a transfer quarterback. That trend may change in the future, Nick Roush of KSR said on the On3 Roundtable.
Hodgenville (Ky.) Lexington Christian Academy four-star quarterback Cutter Boley announced his commitment to the Wildcats on May 18 and reclassified to the 2024 cycle. As a result, Kentucky may have found its signal-caller of the near future.
"He's without a doubt the highest-ranked quarterback (from Kentucky) since 2004, a top-100 prospect," Roush said. "You'd have to go all the way back to Brian Brohm in the early internet rankings to find a talent like Cutter Boley. "
Boley is currently the highest-ranked prospect in the Wildcats' 2024 recruiting class, which ranks No. 26 in the 2024 On3 Industry Team Recruiting Rankings. He chose Kentucky over Florida State, Michigan, Penn State and Tennessee.
Liam Coen returned to Lexington this offseason from the Los Angeles Rams to serve as offensive coordinator/quarterbacks coach. According to Roush, that move played a crucial part in Boley's decision.
"That experience with the NFL, the ability to turn Will Levis into a draft pick had a huge, huge role in getting Boley to come to Kentucky, where they don't make guys like this very often around here," Roush said. "To be fishing in the same waters as guys like Air Noland, who's ranked just ahead of him going to Ohio State, Kentucky typically doesn't have a chance to land guys like this. This is huge for the program and also dispels this myth that they can't recruit high school quarterbacks."
**Subscribe to the On3 Roundtable for more expert opinions**
Boley will compete to start early in his Kentucky career
Boley, who previously reclassified from the 2024 to the 2025 cycle before reversing the move yesterday, has already found success on the high school level. The No. 70 overall prospect and No. 6 quarterback in the 2024 On300, Boley led the state in passing during his sophomore year.
Devin Leary, who transferred to Kentucky from NC State, is in line to be the Wildcats' starting quarterback this year. Roush believes that Stoops and Co. will look for a quarterback in the transfer portal to bridge the transition between Leary and Boley.
However, Roush is confident that Kentucky will allow the 6-foot-5, 200-pound signal-caller to compete for the starting job as a true freshman.
"He's got a really big arm," Roush said. "He's exceptional with the long ball. That's where I'd say his greatest strength is. He's a real pro's pro back there in the pocket. Another thing that helps too is there's a lot of familiarity with Liam Coen, not just because he goes to high school right down the road from the University of Kentucky, but his private quarterbacks coach actually played for Liam Coen at Maine about seven or eight years ago."