Kentucky quarterback Will Levis declares for 2023 NFL Draft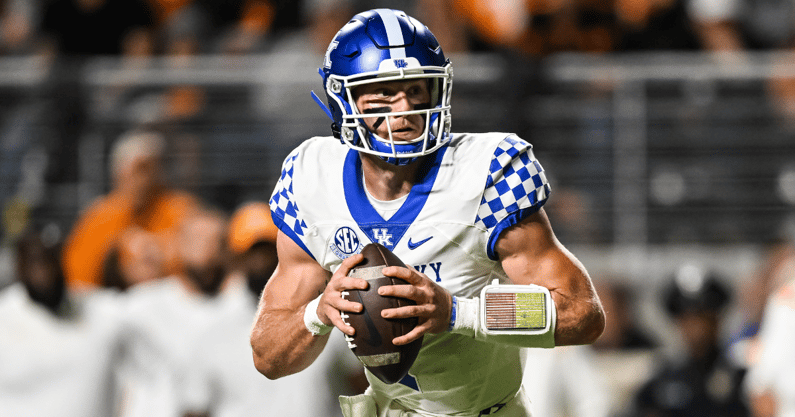 Kentucky star quarterback Will Levis has declared for the 2023 NFL Draft, he announced via Twitter spaces with UK Blue Chips. Levis is widely regarded as a top-10 selection in this year's cycle.
Levis noted that despite his NFL Draft declaration, the possibility of him playing in the Wildcats' bowl game is still on the table. His final decision is, "coming soon," Levis said during the stream. The Wildcats will know their fate on the college football bowl selection show on Dec. 4.
The Penn State transfer finished the regular season with 2,406 passing yards, 19 touchdowns and 10 interceptions while completing 65.4% of his passes in his second season at UK. Despite dealing with nagging injuries throughout the season, Levis helped lead the Wildcats to a 7-5 record and earning Kentucky a bowl berth for the seventh-straight season.
More on the 2023 NFL Draft
The 2023 NFL Draft is set to take place from Thursday, April 27 through Saturday, April 29 in Kansas City, Missouri. The event will be held at the plaza just outside of Union Station.
Round 1 of the NFL Draft is set to begin at 8 p.m. ET on Thursday, Apr. 27. Rounds 2-3 will begin at 7 p.m. ET on Friday, Apr. 28, and Rounds 4-7 will begin at 12 p.m. ET on Saturday, Apr. 29. The draft will be broadcasted throughout the weekend on both ESPN and NFL Network.
To be eligible for the NFL Draft, players must be at least three years removed from their final year of high school while having used up their collegiate eligibility. Underclassmen are able to request league approval to become eligible for the draft, as are players who have graduated prior to using up all of their collegiate eligibility. 100 underclassmen were approved for last year's draft. 73 of those 100 underclassmen were granted special eligibility while 27 of them were underclassmen who had completed their college degrees.
The 2023 NFL scouting combine will take place from Feb. 28 through March 6 in Indianapolis.