Kentucky set to host No. 1 ranked junior Tre Johnson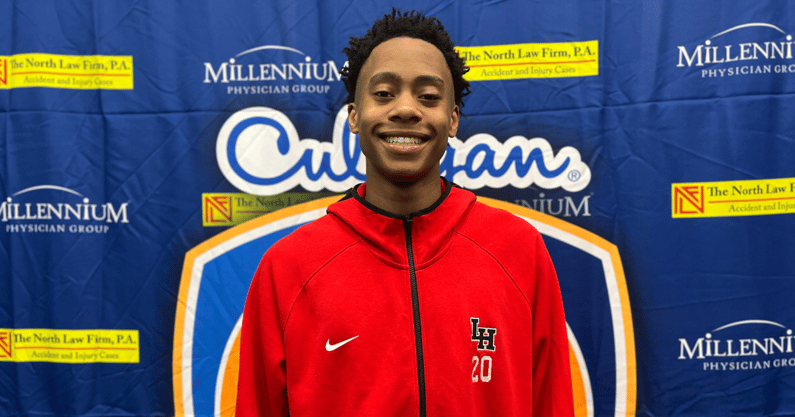 Tre Johnson, the No. 1 overall player in the 2024 class, will officially visit Kentucky on the weekend of January 28th. The 6-foot-5 shooting guard will be at Rupp Arena as the Wildcats host the defending national champs, Kansas.
"I'm just excited to see the atmosphere," Johnson said. "Just their fans and everything and I want to see what the campus is like. Coach Cal and coach KT have been the ones recruiting me. They've just been saying that they want me and that they could see me playing in their type of system and being a one-and-done. (Kentucky) is built on winning and that's something I'm really about. I want to be apart of place that's going to win."
Texas and Baylor have also both hosted Johnson, a junior at Lake Highlands in Dallas, on official visits.
Johnson also hopes to visits Arkansas, Duke, North Carolina, LSU, and others.
"I'm really open to any place," he added.
Johnson Scouting Report
"Tre Johnson has a good frame with plenty of room to continue adding muscle," On3's Jamie Shaw writes. "His calling card is his shooting. Johnson is a knockdown shooter with deep range, able to make shots off the catch or the bounce. We would like to see him continue to develop his handle in the half-court and become more of a secondary-type ball handler. Johnson has a smooth game, he does not get rushed. He is a solid athlete and he plays with the utmost confidence and smoothness."
NIL Valuation
Johnson holds an On3 NIL Valuation of $272,000. The On3 NIL Valuation is the industry's leading index that sets the projected annual value for high school and college athletes. A proprietary algorithm, the On3 NIL Valuation calculates an athlete's NIL value using dynamic data points targeting three primary categories, including performance, influence and exposure.
While the algorithm includes deal data, it does not act as a tracker of the value of NIL deals athletes have completed to date, nor does it set an athlete's NIL valuation for their entire career. The On3 NIL Valuation calculates the optimized NIL opportunity for athletes relative to the overall NIL market and projects out to as long as 12 months into the future.