Mark Stoops responds to coaching carousel rumors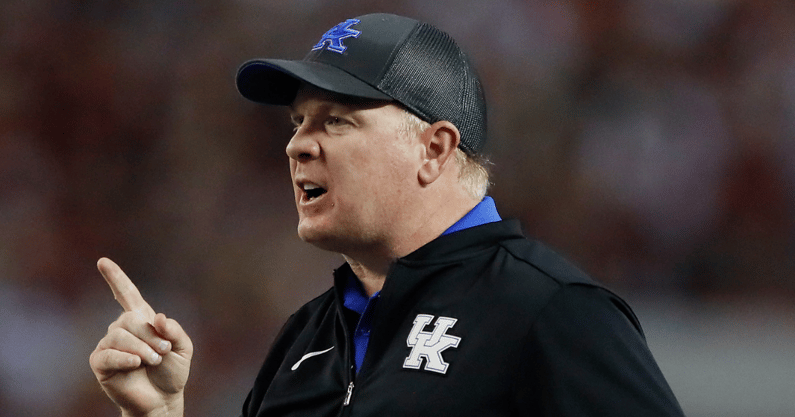 Mark Stoops has built Kentucky into a successful program over the years, and he has always said that he doesn't want to be anywhere other than Lexington. With the college football coaching carousel at an all-time high right now, Stoops' name is continuing to be mentioned as a potential candidate for some of the job openings.
Stoops has always been quick to shutdown such reports, and he continued that trend during his Monday press conference, saying that he is "nothing but committed" to Kentucky's football program and doesn't pay attention to what's being said on the outside.
"I can't control that," Stoops said, as posted in a tweet from KSR's Tyler Thompson. "I have no control over that. I don't want that out there. I don't want that distraction."
Over his nine years at the helm of the Wildcats program, Stoops has compiled a 57-53 overall record with three bowl wins – those coming in three consecutive seasons in 2018, 2019 and 2020. His best season yet at Kentucky came in 2018, when he led the Wildcats to a 10-3 campaign that included a Citrus Bowl win and a final AP Top 25 ranking of No. 12.
Stoops' 2021 Kentucky squad is currently 8-3 overall with a 5-3 mark in SEC play. The Wildcats started the season 6-0 before losing three straight games to Georgia, Mississippi State and Tennessee.
Fresh off back-to-back wins over Vanderbilt and New Mexico State, Kentucky closes its regular season Saturday night with a rivalry matchup with Louisville at Cardinal Stadium. Kickoff is scheduled for 7:30 p.m. ET on ESPN2.
Mark Stoops receives contract extension after Kentucky's win over Vanderbilt
Kentucky head football coach Mark Stoops earned a contract extension a couple of weeks ago that will give him a pay increase, and most importantly keep him in Lexington longer.
With the Wildcats' 34-17 win over SEC opponent Vanderbilt back on Nov. 13, UK's head man picked up a one-year extension to his current contract, which pushes the length of the deal to June 30, 2027.
The additional year added will pay Stoops $6.5 million, with $4.875 million of that being guaranteed for the head coach.
Stoops was hired as Kentucky's head coach on Nov. 27, 2012. Prior to taking over the Wildcats program, Stoops served as the defensive coordinator at Florida State.