Kentucky's class climbs to No. 14 with 5-star Barion Brown commit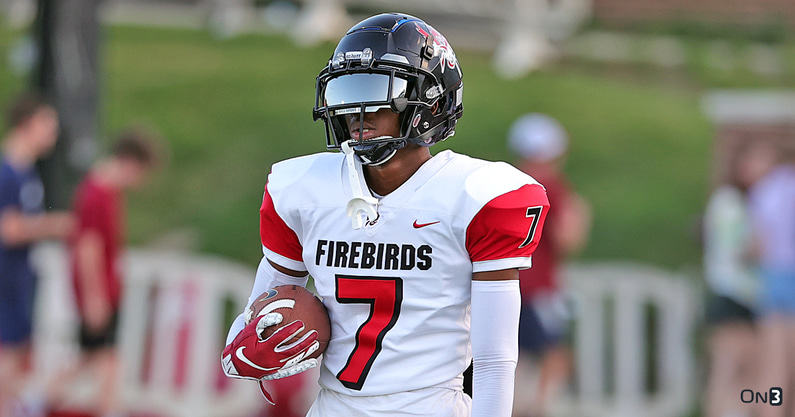 Kentucky's 2022 recruiting class continues to climb up the charts.
With the addition of five-star receiver Barion Brown of Nashville (Tenn.) Pearl-Cohn, the Wildcats now have the No. 14 class, according to the On3 Consensus Team Recruiting Ranking. Brown's commitment pushes UK up one spot and just ahead of SEC opponent Missouri.
Kentucky has two five-star commitments – Brown and five-star offensive tackle Kiyaunta Goodwin of Charlestown (Ind.) High – and nine four-star pledges overall.
The Wildcats' class has a score of 90.258 and is just .209 points behind Florida State at No. 13. There are six SEC teams –Georgia (1), Alabama (2), Texas A&M (3), LSU (12), Kentucky (14) and Mizzou (15) in the top 15 of the class rankings.
UK head coach Mark Stoops has transformed the Wildcats on the field and on the recruiting trail. But this 2022 class is shaping up as his best ever.
The last time the Wildcats were close to the top 20, let alone in the top 15, came in 2020 when UK finished No. 22. Prior to this class, Kentucky had classes that averaged 29th in the country.
On3 Director of Recruiting Chad Simmons outlined how the Wildcats landed Brown.
"Their overall play, the new offense, the chance to change games immediately, how they use Wandale Robinson, and the chance to be the guy in Lexington, in the end, helped Stoops and company win this prized target," Simmons wrote.
"The combination of the new Kentucky offense, how comfortable he feels with Coen, wide receivers coach Scott Woodward, Lexington not being too far from home, and the consistency he's had in communication with Kentucky over since late summer played a big role in this."
Brown is ranked as the No. 51 player in the country, according to the On3 Consensus, a complete and equally weighted industry-generated average that utilizes all four major recruiting media companies. On3 ranks him as the No. 2 receiver in the country and the second-best player in Tennessee behind Five-Star Plus+ DL Walter Nolen.