Landing 5-star WR Barion Brown takes Kentucky's offense to the next level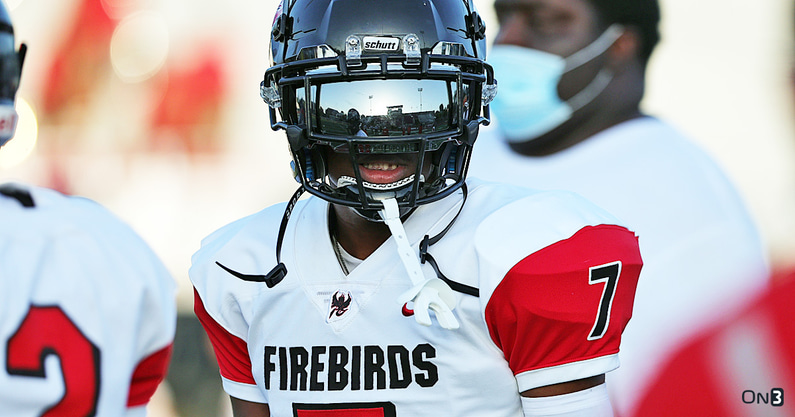 What a win on the recruiting trail this is for Mark Stoops and the Kentucky Wildcats.
Barion Brown, a five-star wide receiver out of Nashville (Tenn.) Pearl-Cohn, committed to Kentucky over Alabama when it came down to it. TCU was up there at one point in the summer, and schools like Georgia, Ole Miss, and Oklahoma finished in that second group, but this is an instant playmaker in Lexington.
The 6-foot-1, 173-pounder is the no. 2-ranked wide receiver and no. 14-ranked player overall in the country.
"There is nothing he can't do," Pearl-Cohn head coach Tony Brunetti. "Barion is one of the best athletes in his class. When he is on the field, there is nothing he can't do."
Now Kentucky has that type of talent to coach, develop, and put into their new offense under Liam Coen.
Brunetti knows Brown will make Coen's job fun.
"You can line Barion up anywhere. For us, we have always just wanted to get the ball in his hands. He has speed, he is explosive, and he is a guy who can make a big at any time."
Working in an SEC weight room, being on a nutrition plan, and getting to fine-tune his game at Kentucky in the coming years is going to push Brown to another level.
"Barion still has so much room to get better," Brown added. "He will continue to grow, get bigger, and stronger.
"He is one of the best players I have ever coached. Barion is like that Devonta Smith that played at Alabama. He is fast, he is smooth, and he about the big plays."
How Kentucky won out for 5-star WR Barion Brown
Coming out of the summer visits, Kentucky was mentioned, but not really considered as one of Brown's top schools.
Brown took official visits to Alabama (June 4) and TCU (June 18). He all but said on record that he was going to commit to the Crimson Tide or Horned Frogs when that time came.
He wanted to commit in August, he even thought it could happen before the season started. Brown never felt 100-percent ready.
Slowly through the month of August and early into the season, Alabama pulled ahead as TCU faded. He has a strong connection to TCU, Gary Patterson signed D'Arco Perkins-McAllister in the 2021 class, and he is from Nashville, and a good friend of Brown's.
If the Crimson Tide was no. 1 and TCU has all but dropped out of their race, there had to be a new no. 2. The news was around Lane Kiffin stopping by the school, Georgia trying to get him on campus, or that Oklahoma may be in line for a visit, but Kentucky was the one nobody was talking about.
When On3 was there in late August, Brown was working out in Wildcat shorts, and that is when the chatter around Kentucky really started.
Brown quietly visited Kentucky late in July, then took an official visit early in October, and the Wildcats surged to the top over the last six weeks.
The combination of the new Kentucky offense, how comfortable he feels with Coen, wide receivers coach Scott Woodward, Lexington not being too far from home, and the consistency he's had in communication with Kentucky over since late summer played a big role in this.
Alabama was the school on his mind through mid September, but Kentucky was not too far in the distance. Their overall play, the new offense, the chance to change games immediately, how they use Wandale Robinson, and the chance to be the guy in Lexington, in the end, helped Stoops and company win this prized target.