Mark Stoops gives honest assessment of Will Levis fumble vs. Ole Miss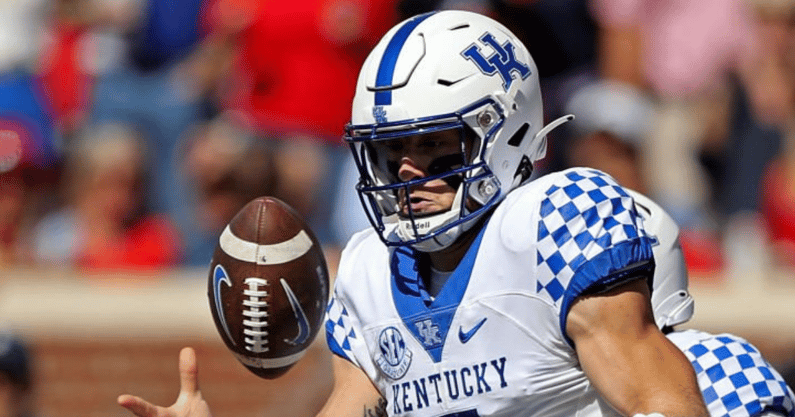 Kentucky has spent the last few days recovering from their first loss of the season. The Wildcats went down to Ole Miss and left with a 22-19 defeat that they can arguably put on themselves. Mark Stoops' team cost themselves time and time again in key moments and QB Will Levis was no exception, especially with a lost fumble that sealed the game.
Stoops broke down Levis' fumble during his appearance on the SEC Teleconference this week. He said he can't put all the blame on Levis because of the play design in the red zone as well as some of the factors surrounding the play.
CLICK HERE to subscribe for FREE to the On3 YouTube channel
"Yes, it was close but he wasn't (throwing it). (It was) the correct call and very, very close and unfortunate," said Stoops. "There's things we can do better with that particular play. I can't blame Will. The play design was set for a little, maybe a fraction, long for being in the red zone. But we tried to chip and help a young tackle. We probably could have laid on it a little longer. It was a very close play, but, correct call."
Even after taking a safety in the first half and fumbling on the previous drive, this fumble from Levis was his most costly mistake in the game. Kentucky was driving and had a shot in the red zone to take the win back to Lexington. However, the fumble ended those hopes.
Still, Stoops put it on the play call to a degree as well as the injury to RT Jeremy Flax. With Flax out, redshirt freshman David Wohlabaugh was brought in to substitute and he was the player junior DE Jared Ivey beat to force the fumble from Levis.
The Wildcats have to put this loss behind them quickly with South Carolina coming to town this weekend. Even with the mistakes, specifically from Levis, Stoops will have to have Kentucky regrouped and ready for the Gamecocks on Saturday night.