Mark Stoops recalls job security question before Kentucky turnaround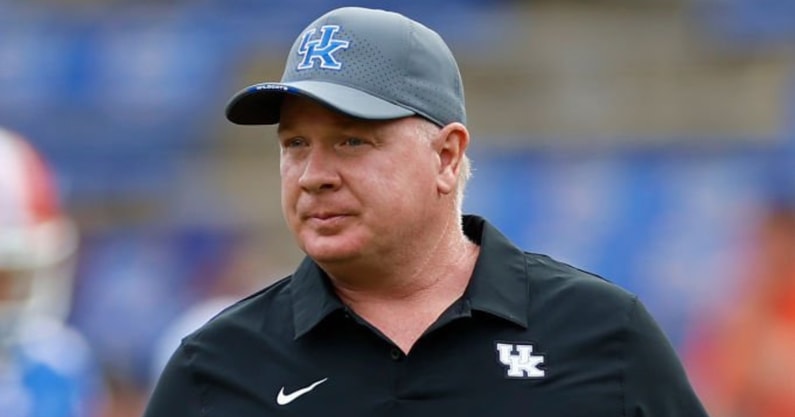 In 2015, Mark Stoops had just wrapped up a third straight losing season at Kentucky. Since then, the Wildcats have turned things around, making six straight bowl games and looking primed for a seventh this year.
But before that turnaround, Stoops never lost hope that the program could get on track.
"How did I feel? You obviously always feel a little pressure because you want to deliver," Stoops said on the SEC coaches teleconference Wednesday. "You want to deliver for the people that invested in you, that believed in you, your fan base, your players. That puts the stress on. No disrespect to you [the reporter] because you probably didn't follow us that closely that long ago, but that narrative gets a little old because anybody that has any idea what's going on around here could clearly see that we were always making progress. Now, that never comes as fast as everybody wants. We all want it to get to happen faster."
CLICK HERE to subscribe for FREE to the On3 YouTube channel
Now, rosters can turn over quick thanks to the transfer portal and immediate eligibility. But back then, the portal didn't exist and transfers still had to sit out a year if they switched schools. Luckily, Stoops said, he had a strong support system at the university that gave him time to build the program up.
"In today's world, it is easier to turn it around because of the transfer portal," Stoops said. "But back then, with the limitation on signing classes and the transfer situation not being as open as it is, it was going to take time. Fortunately, for me, I worked with an administration and a president that [understood] and very clearly, everybody knew around here we were making improvement, no matter what the record showed."
Mark Stoops weighs in on future of official college football injury report
College football feels a bit like it's entered the Wild West as an early signing day, the transfer portal and NIL have created myriad new challenges for college football coaches. One old challenge that hasn't gone anywhere is simply trying to figure out who might actually be able to suit up for their opponent in a given week.
Unlike the NFL, college football has no rules about a standardized injury report.
Some coaches are extremely open about their injuries. Others, not so much. It can lead to all sorts of gamesmanship, to the point that at least some coaches have advocated for creating some standard rules around an official college football injury report in the last few years.
"I think the hurdles may be just the players' rights," Stoops explained Wednesday on an SEC teleconference call. "I think it's a little different in college than the NFL with the injury report and things of that nature, maybe some of the hang-up."