Mark Stoops sends clear message to Kentucky wide receivers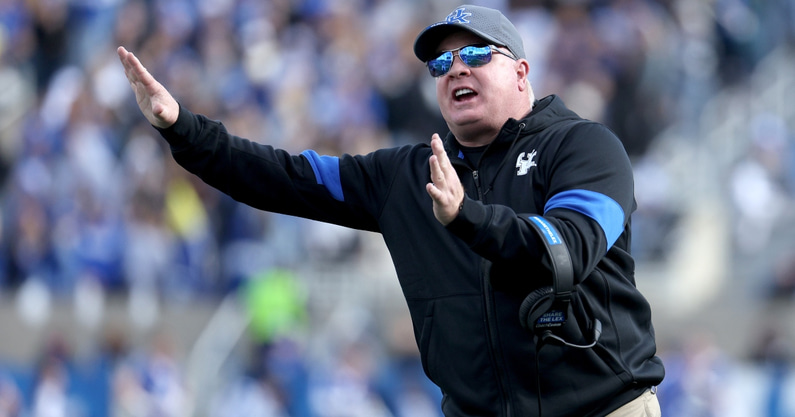 Kentucky has had some offensive line issues to start the 2022 season. However, as head coach Mark Stoops would tell you, they're not the only unit struggling to block. He will tell you that the wide receivers are also struggling to block and it's actually making the offensive line look worse. Now, he has a message for those skill players.
During his weekly press conference, Mark Stoops was asked if he was happy with his wide receivers' blocking, or if he felt they needed to improve. Stoops jumped on the opportunity to send a message to his wide receivers.
"I mean, there's one play with a missed assignment [that] goes for a negative four yards and everybody's just saying it's on the offensive line," Mark Stoops said.
CLICK HERE to subscribe for FREE to the On3 YouTube channel
"When we have it all sealed up if we do what we're supposed to do. You know, it's probably a 20-yard gain. Instead, it's a four-yard loss. But, that's not on the offensive line. That's on a wide receiver completely whiffing."
Mark Stoops was then asked a follow-up question about wide receiver blocking. Is it harder to teach blocking to young wide receivers when they're catching a bunch of passes?
"Oh, they're gonna learn or they won't be catching passes," Mark Stoops said, earning a laugh from the media members in attendance.
Mark Stoops was unhappy with Kentucky's play
Kentucky started slowly against Youngstown State, before pulling away to win 31-0. It was a performance that head coach Mark Stoops wasn't happy about.
"After reviewing the film, really kinda disappointed and a little unhappy with some of the undisciplined play that we had from this week. Not to take away from some of the players that did a great job. Defensively, it was a very good effort once again. Felt like we're really dialed in, detailed, executed at a very high level," Mark Stoops said.