Mel Kiper makes case for Will Levis as No. 1 quarterback in 2023 NFL Draft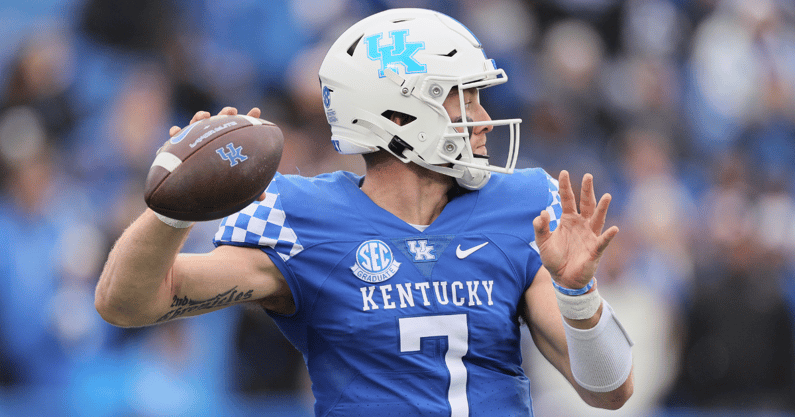 No player in the 2023 class gets NFL fans and draft pundits riled up quite like Kentucky quarterback Will Levis. There's a strict divide between those who fawn over the robust athlete and rocket-armed prospect, and those who can't seem to get over the idea of a Kentucky QB who went 7-4 as a starter this year being the draft's top quarterback. Levis' biggest supporter in the NFL Draft world has certainly been Mel Kiper Jr. — ESPN's top draft analyst, who has planted his flag hard and heavy on the Levis side when discussing the year's QB class.
Kiper raves about the leadership and raw talent Levis shows, while admitting his pocket presence and knack for turning the ball over are concerning traits. In the end, though, Kiper rides with the guy who has a bazooka attached to his right shoulder, noting that folks around Lexington also rave about his leadership and character.
So here is Mel Kiper's long and detailed case for Will Levis as the top quarterback in the 2023 NFL Draft, and somebody the Seattle Seahawks shouldn't think twice about taking if he falls to them.
Mel Kiper on Will Levis
"Yeah I would. I would look at Will Levis here if he were still on the board. This guy withstood more punishment than anybody in my opinion. He got pounded, he had no help from that offensive line. He was destroyed at quarterback, his body was destroyed from the ankles to the toes to the shoulder, everywhere in between. This kid is tough and to get back out there and play, the offensive line being as bad as it was, he didn't get any support at all and he still hung in there and was with his team. He was with the team during the bowl game when he couldn't play, okay. He didn't go prepare for the draft process, he wanted to be there with his guys.
"To take the pounding he did, Todd, to still try to be out there and compete — he had no rushing touchdowns over their last eight games. He had two early, he's not over there last year when he was healthy. In 2021, he had nine rushing touchdowns, 23 touchdown passes, led them to a 10-3 record. He completed a ton of passes against Georgia, was lights out against LSU, ran for over 100 yards. I mean, you talk about the offense — he played West Coast. That he played for one coordinator (Liam Coen). He left to go the Rams, then another coordinator (Rich Scangarello) steps in now the other coordinator (Coen) is coming back.
"He's 23 right now, will be 24 in June, also spent time at Penn State. He's been through an awful lot and physically adapting to different offensive coordinators, different players around him. Yeah, there's a lot to love about Will Levis in terms of the top-five, top-six of the draft. The turnovers were maddening, some of the mistakes and his eyes dropping is frustrating.
"But there are two things that you got to know about him. One, when he goes out to the Peyton Manning Camp, who's the most talented quarterback there? Will Levis. And then when you talk to every single person on campus at Kentucky — I'm talking like the the lunch lady and gentlemen, every single person swears by this guy, his leadership, his character, what he's going to bring to an organization, the way he loves ball. It's hard not to bet on will Levis despite the fact that the tape wasn't great."