Mark Stoops weighs in on future of official college football injury report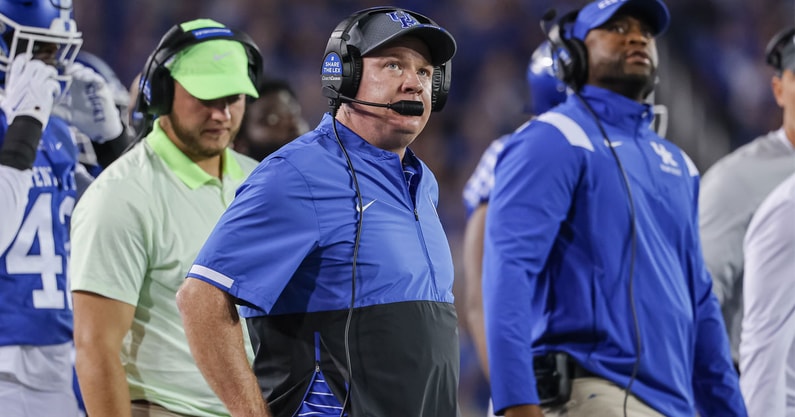 College football feels a bit like it's entered the Wild West as an early signing day, the NCAA transfer portal and name, image and likeness (NLI) reform have created myriad new challenges for college football coaches. One old challenge that hasn't gone anywhere is simply trying to figure out who might actually be able to suit up for their opponent in a given week.
Unlike the NFL, college football has no rules about a standardized injury report.
Some coaches are extremely open about their injuries. Others, not so much. It can lead to all sorts of gamesmanship, to the point that at least some coaches have advocated for creating some standard rules around an official college football injury report in the last few years.
"I think the hurdles may be just the players' rights," Kentucky coach Mark Stoops explained Wednesday on an SEC teleconference call. "I think it's a little different in college than the NFL with the injury report and things of that nature, maybe some of the hang-up."
Aside from the privacy concerns, the lack of any sort of rules around reporting injuries creates some murky territory. No one is necessarily required to provide injury updates, and many coaches take that to an extreme.
Stoops isn't one of them.
"For myself, I'm usually pretty open. That's just my take," he said. "I just feel like the relationship with the media, y'all have a job to do. I feel like there's enough information out there whether you tie it down, but if you've got somebody hurt, there's going to be people around campus watching them and noticing whether they're in a boot, whether they're on crutches, whether they're out."
Mark Stoops explains his personal college football injury report rule
For Stoops at Kentucky, the method of reporting injuries is pretty straightforward. Gamesmanship is reserved only for players who actually have a chance of suiting up.
He's not one of the coaches who will orchestrate elaborate misinformation campaigns about a player who never had a chance to play that week.
"My take has just been if I know a player is definitely out, if he's out, then I say it as early as I know," Stoops said. "That's just my take. I'm not sure where we're at as a league or with the NCAA with that issue, and I just try to be as transparent as I can be.
"There's times when you just flat-out don't know whether a guy's going to be ready or not, and some of that you have to play close to the vest. You don't want to give your competitors an advantage. But, again, I just feel like when a player's out, I basically report it because I feel like it's going to get out anyway."
So there you have it. Official college football injury report required or not, Kentucky, at least, will be one program you have a better handle on when it comes to reporting methodology going forward.