Oscar Tshiebwe gives heartwarming response to postgame autograph session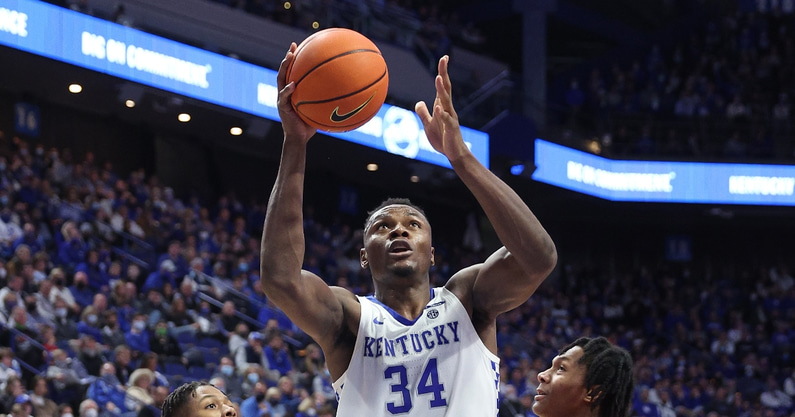 After Kentucky defeated Georgia last Saturday 92-77, around 100 members of the Big Blue Nation stayed after the game for and autograph and photo session with Oscar Tshiebwe.
Tshiebwe skipped out on post-game media that night, as he waited on the court for each and every fan to come through the line and have their opportunity to meet their beloved rebounding machine.
While Kentucky has only three true road games under their belt this season, he was able to experience the phenomenon that is BBNashville. Unfortunately for Vanderbilt, they know all too well that Nashville is like a second home to Kentucky fans.
"Those fans, we've got to do whatever we've got to do for them because without them we can't do anything. Like today, that gym was packed. I thought this gym was going to be packed with Vandy fans, but no Vandy – [it was] our fans.
Tshiebwe has completely embraced the love Big Blue Nation has shown him this season. The former three-point posters that counted the amount of three's Kentucky hit in a game in section 17 of Rupp Arena has been replaced with "R" posters to count his rebounds, not to mention the fans going nuts when he gets a board.
"If they sacrificed to follow us wherever we go, then we have to do something for them," Tshiebwe said. "We cannot just get up and go when the people need something, especially the little kids. I love spending time with little kids. I can do anything for those kids because they come into the game, we are their examples for what we do because they want to do that one day too. So, we've got to show them good things to follow so when they grow up, they can grow up as good examples."
Most players head into the locker room as soon as the game ends, not Tshiebwe.
"The way I treat people, the stuff I'm bringing to this place, Kentucky basketball, It's not just being a basketball player," Tshiebwe said. "I want my name to be remembered as Oscar who was different, not just a basketball player."
And how can you not root for the guy? To have a player that is a legitimate National Player of the Year candidate, who is on track to average the first 15-point, 15-rebound season in modern college basketball, take time out of his night after notching 29 points and 17 boards, it says something about his character.