Oscar Tshiebwe reveals problems with Kentucky's offense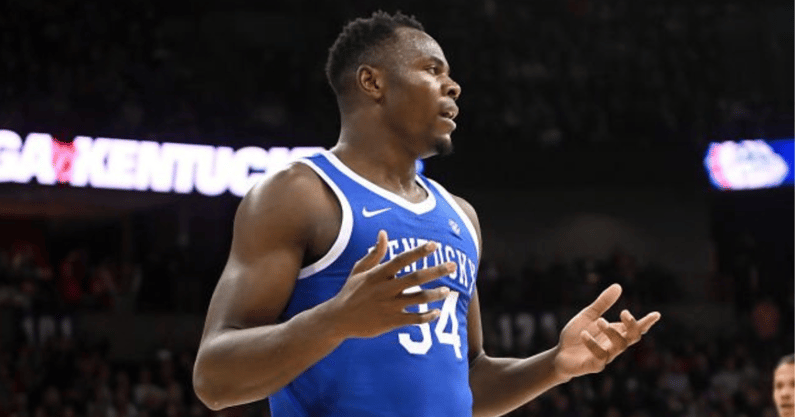 Two losses have already let some of the air out of Kentucky's balloon to open the season. The Wildcats have had no problem putting up points against their three smaller opponents. However, their offense has looked stagnant for stretches in their two losses against Michigan State and Gonzaga. If they want to get the energy back, Oscar Tshiebwe says it's going to take better focus out of him and his teammates.
Tshiebwe spoke postgame about the struggles of the UK offense. He said the noise in Spokane played a factor and he gave credit to their second-half run but, regardless, he says the Wildcats have to listen up when it comes to play-calling.
CLICK HERE to subscribe for FREE to the On3 YouTube channel
"I think we have to listen and run plays. Most of the time we don't really run what coach is asking us to do," said Tshiebwe. "Everybody's gotta be in their position, especially me. Like today I did not really listen to what they were telling me because it was so loud…We made shots in the second half. I think we're going to get everything figured out. I'm staying confident with my team."
Kentucky has scored 92.7 points per game in their three wins of the season so far. In the losses, though, that average has dropped to 74.5 points per game. That number is bolstered as well considering the loss to the Spartans went to double overtime. They finished regulation with 62 in that defeat in the Champion's Classic.
Tshiebwe is doing his best to get the offense running coming off injury with a team-high 16 points per game. Still, Kentucky needs more from their other stars if they want to bounce back from their 0-2 start to their legitimate non-conference schedule. Now, the Wildcats will have two weeks to tinker with the offense before their next test comes against Michigan in London on December 4th.