Oscar Tshiebwe says Kentucky is 'playing good' despite loss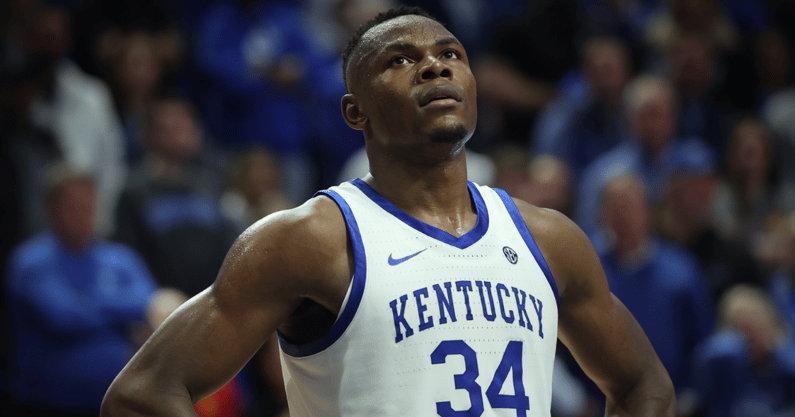 Kentucky's four-game winning streak came to an end on Saturday night with their 77-68 loss to No. 9 Kansas in the SEC/Big 12 Challenge. Even so, Oscar Tshiebwe says everything is still a-okay with UK even though some saw it as a flashback of what went wrong for the Wildcats to start the year.
Tshiebwe spoke postgame about how well he and his teammates are still playing even though the game ended in defeat. He said this is a matchup that, just a few weeks ago, would have been a far more significant loss considering how they were playing before.
"I feel like we did good," said Tshiebwe. "I'd probably say two weeks ago, three weeks? (Against) a team like this? We would've lost by a lot of points because we were not really defending like we are right now. We're playing good but we've just got to stay locked in."
Some of Kentucky's issues did rear their heads again on Saturday night against the Jayhawks. Their offense went stagnant again for stretches, especially over the final six minutes of the first half. They also shot just 2-13 from distance, with Cason Wallace providing the only makes, and were outrebounded by five.
Still, Tshiebwe has a point. Top competition was hammering UK as they started 0-3 against ranked opponents by an average margin of -17.3 points. They ended that narrative with a win in Knoxville over No. 5 Tennessee and they had their moments to do something similar over the weekend against Kansas. In the end, they just couldn't get the stops they needed as Kansas threw several knockout punches to finish.
The prevailing point is that this is not the same Kentucky team from earlier in January. It's a far more competitive one that just came up short against a top-notch opponent. 'Coming close' will only get Tshiebwe and his teammates so far, though, as they must now regroup and keep their momentum in order to wrap up their SEC season strong.