Shane Beamer impressed with Kentucky quarterback Will Levis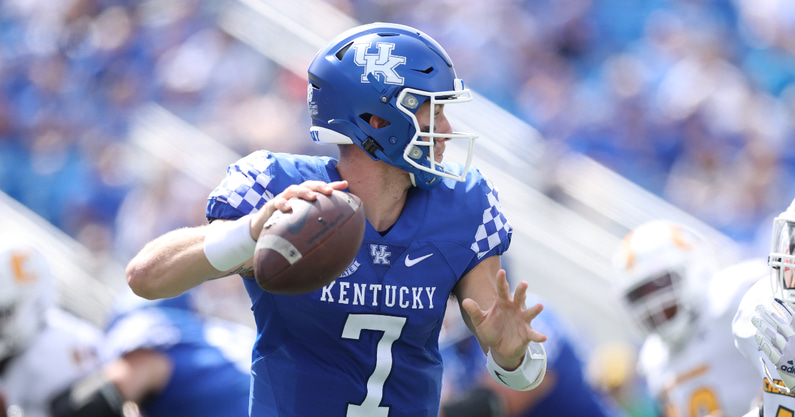 Just one week removed from escaping a near-catastrophe against Chattanooga, the 3-0 Kentucky Wildcats will travel to South Carolina to take on Shane Beamer and the Gamecocks. It's a game in which Kentucky quarterback Will Levis has a lot to prove, as the junior signal caller looks to earn his second SEC victory in as many SEC starts.
Levis, a transfer from Penn State, played in eight games and started just one last season. He completed 33-of-55 passes for the Nittany Lions, throwing for 421 yards and a touchdown, while displaying a bit of athleticism on the ground with 82 rushes for 260 yards and three touchdowns. He's off to a hot start in his first season in Lexington, and as the Gamecocks game plan for Levis, Beamer has taken note.
"He is really, really, really good," Beamer said of Levis on the SEC Coaches' call. "He's got size. 6-foot-3, 232 pounds is what he's listed at. He can certainly run, that shows up on tape. He's had some critical runs that has helped them, but to me the two things that jump off the tape with him is his release — it's really, really quick, he gets the ball out. But he throws — and this is not just coach speak — he throws one of the most impressive of deep balls."
Levis made a couple mistakes last week, perhaps leading to the Wildcats' narrow, 28-23 victory over Chattanooga. He managed to complete 23 of his 35 passing attempts, while throwing for 254 yards and two touchdowns. However, Levis also threw two interceptions.
Perhaps his best game, though, came on the biggest stage so far, as Kentucky hosted Missouri in Levis' first-ever SEC start. Levis didn't throw all that much — completing just ten of 18 passes for 179 yards, one touchdown and one interception — but he also was effective on the ground, keeping Missouri guessing with 25 rushing yards and a crucial rushing touchdown.
"When [Levis] throws the ball down the field, there's not a throw on the field that he can't make," Beamer said. "I mean, they're so explosive on offense because they were able to sit back there in protection, and he sits back there and just throws balls all over the field, and they're accurate deep balls. He hits receivers in stride. He can run, he's certainly shown that. To me, he's a dynamic quarterback, just the ability to make all those throws and his arm strength is really impressive."