WATCH: Kentucky football trolls Gamecocks by dancing to Sandstorm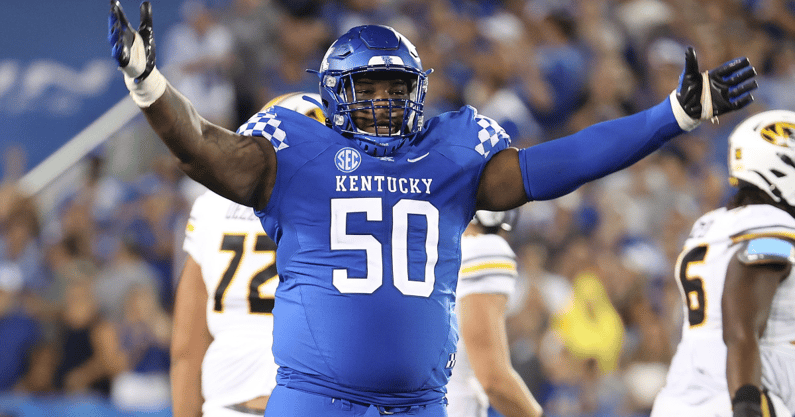 Following a 16-10 victory against South Carolina, Kentucky football celebrated by dancing to Darude's "Sandstorm" on nose guard Marquan McCall's Instagram live. That is the same song the Gamecocks play before kicking off at their home games.
The Wildcats didn't appear phased by the road crowd as they improved to 4-0 on the season and 2-0 in SEC play for the second time since 1977. They struck first and never trailed, entering halftime with a 10-0 advantage.
Bell cow running back Chris Rodriguez led the charge for the offense. He finished with 26 carries for 144 yards and also had a pair of catches. About the only thing he didn't do was score a touchdown, but it was still a spectacular effort. As a team, the Wildcats finished with 230 yards rushing in the victory.
Although the "Sandstorm" antics concluded Saturday, they began much earlier in the week. The Wildcats also played the song as well as bird noises during practice this past week.
Kentucky added transfers Will Levis and Wan'Dale Robinson in the offseason to bolster their passing game. Although Levis threw for just 102 yards and an interception, he wasn't needed to pull out the win. That will likely change going forward as the SEC competition gets tougher.
The Wildcats return home to face No. 11 Florida next Saturday in Lexington. After going into halftime up 17-14 the Gators shut out Tennessee in the second half to claim a 38-14 victory in Week 4. It is the first time Kentucky has played a ranked school this year.
After dancing to Sandstorm, will we see another creative celebration for Kentucky football next week? The Wildcats received 12 votes in the latest AP poll, but beating the Gators would ensure them a spot among the top 25.
The rest of the country might consider Kentucky a basketball school, but it's clear this year their football team has just as much talent.