Will Levis highlights Chris Rodriguez strength as blocker, multiple ways he contributes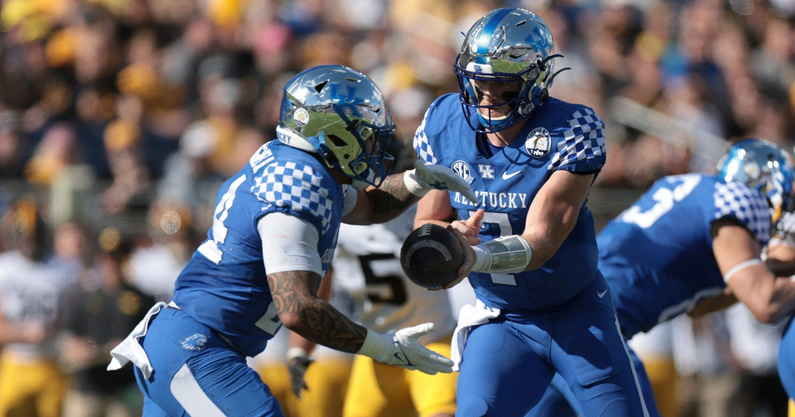 Kentucky gets back their star running back Chris Rodriguez for the first time this season after serving a four-game suspension to start the season. Quarterback Will Levis is surely excited to have his go-to ball carrier back behind him, and spoke about his returning teammate.
"He's been bringing it the last handful of weeks, he's been out here working with us so he's the same old C-Rod," Levis said. "I think he's definitely taking his preparation up to a new level knowing that he's playing this week and there's a game plan that he has to focus on seriously now, but I mean he's an electric playmaker that we're excited to have back."
Levis was also asked if he and others had to remind Rodriguez not to do too much extra in ahead of his season debut, which is the least of his worries.
CLICK HERE to subscribe for FREE to the On3 YouTube channel
"He's a good enough player to know what his limits are and how to practice, how to play so I think everyone just lets him do his own thing and they know good things will happen," Levis said.
Rodriguez was one of the most explosive running backs in the nation last year, named First-Team All-SEC by the Associated Press and USA Today. He enters this season as the conference's leading returning rusher, a team captain, and ranking sixth all time in career rushing yards for the Wildcats. He has a lot of tools to his game, and Levis spoke about what he believes is his biggest strength.
"I'd just say his vision in the run game, I think there's certain concepts that he can see blocks and set up blocks before they happen, and that just comes with experience and his cognitive ability to understand defenses. It's cool to watch, just to kind of see him make moves before anyone else can even see them there," Levis explained. "He's not the shiftiest dude, but he just makes stuff happen, can't really explain it, it's cool to see."
One of Rodriguez's most inexplainable plays last season was his go-ahead touchdown in the Citrus Bowl, where with 1:54 left in the game he turned a surely busted play and tackle for loss into his second touchdown of the day, as the Wildcats when on to win 20-17.
"It's very rare that he doesn't break the first one or make the first one miss, so when you're in situations like that where you think the play may be broken, it could be a positive, even game-winning, play with a guy like that. It's just a matter of getting the ball in his hands whenever we can," Levis said.
Kentucky is definitely hoping for more jaw-dropping touchdown runs from Rodriguez this season, but Levis also touched on an area of his game that is often overlooked and will definitely benefit their offense, his brute pass protection.
"You see him run the ball, you know he's physical and he's just like that in pass protection too. It's not fun when a guy's coming free and he has to meet Chris in the backfield when he knows his stuff and is on it in the pass protection game," Levis smile and said. Which he was all of last year and which we know he will be from here on out. He's an asset for us where defenses know it's not going to be easy to get around him and he takes pride in that for sure."
Apparently, new offensive coordinator Rich Scangarello has some different packages ready to use Rodriguez along with other Wildcat running backs in different ways he hasn't been able to yet. Which is exciting news for Wildcat fans, but for Levis it will be business as usual, executing the offense and getting it to his playmakers.
"I'm gonna operate the same way regardless of who's in there, but I mean it's up to him in the coaches to put the guys in the right concepts necessary to let it play out as best as possible. And I know that we have trust in all our running backs, but we know that Chris is good at certain things in the run game and in the pass game that we're excited to use him for. I'm doing the same thing regardless of who's in there, but just making sure I'm getting the ball to who needs to get it," Levis said.