Mel Kiper Jr. explains why he's high on Will Levis Jr. despite 2022 season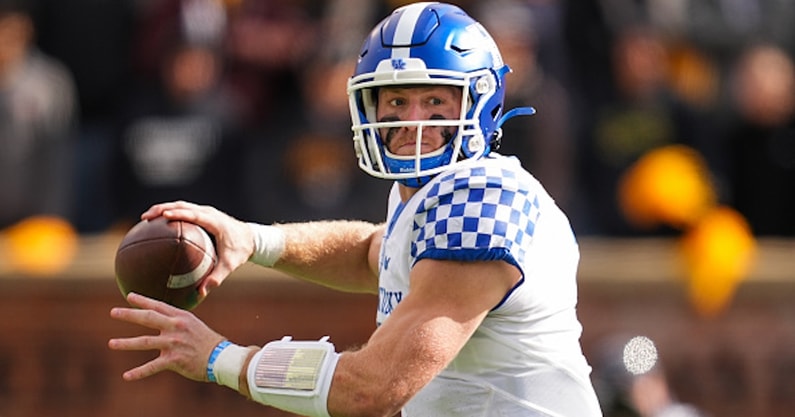 Mel Kiper is high on Kentucky quarterback Will Levis in the 2023 NFL Draft despite a down 2022 season.
Kiper put Ohio State's C.J. Stroud at the top of the quarterback list for his first mock draft. Despite Levis being the third quarterback selected, the NFL Draft expert was confident in Levis' pro career. 
Despite a down year, Kiper made the argument for the Kentucky signal caller.
"Because I saw him in 2021 play so well," Kiper said on NFL Live. "10-3 record he led them to, he had help from his o-line, Wan'Dale Robinson was there and he was making throws at any point on the field, snapping it off from his ear, running with the football, running for over 100 yards on that LSU defense, was outstanding against that Georgia defense, completed a high percentage of passes against that talent-laden Bulldog squad. 
"The way he fought back from injury and played through injury, significant injuries, this year, while a lot of guys would have been watching from the sidelines, he was out there competing. Obviously, the turnovers he needs to cut down on, but I think the skill set is there, the attitude is there, the want to is there for Will Levis to be a franchise quarterback."
Mel Kiper confident in Kentucky's Will Levis in NFL Draft
Levis finished his final season with 2,406 yards, 19 touchdowns, 10 interceptions, a 65.4% completion percentage and two rushing touchdowns. In his career with Kentucky, Levis had 5,232 yards, 43 touchdowns, 23 interceptions, a 65.7% completion percentage, 269 rushing yards and 11 rushing touchdowns. 
"I'm gonna bet on Will Levis (in the NFL Draft)," Kiper said. "I bet on Josh Allen when nobody liked him. Herbert was the third quarterback taken when he came out. I go down the line there's a lot of quarterbacks. (Matthew) Stafford went No. 1. People were criticizing Stafford when he came out, he still went number one … So for me, Will Levis we'll have critics because a lot of people don't like him. And what happens is guys, when you don't like him, you hate him. Until he proves you're wrong. 
"And that usually never happens because nobody wants to give it up. So for Will Levis, he's gonna have to battle the naysayers probably throughout the first five, six years of his career."