Coveted four-star lineman Madden Sanker commits to Louisville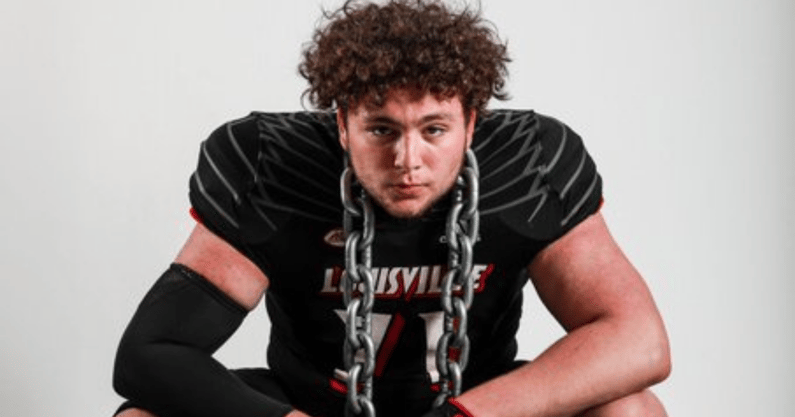 Douglasville (Ga.) South Paulding four-star offensive lineman Madden Sanker found his home in Louisville. The 6-foot-4, 305-pound Sanker picked the Cardinals over offers from Miami, Georgia, Michigan State and others.
Sanker is the No. 121 overall prospect in the On3 Consensus rankings for the class of 2023. He believes in the program being built at Louisville. That was one of the key selling points for the Cardinals. Louisville's 2023 class is currently No. 15 overall in the 2023 Consensus Football Team Recruiting Rankings.
That was intriguing for Sanker.
"I see a program that's building over there," Sanker told On3. "I think they can get back to where they were with Lamar (Jackson) and I feel like I could have an impact on that. All of the other recruits that are there, we have the best class brewing… I think this could be the best class in Louisville history and I can't wait to be a part of it."
Sanker had a feeling about Louisville before his official visit on July 17. The trip to Louisville only acted as a solidifier of his recruitment.
"I think the official visit really tied it in," Sanker said. "They treated me really well. I think coach (Nic) Cardwell is going to be one of the best young coaches in college football. I think that set up really well for me."
Louisville made a lot of ground in recruiting Madden Sanker
Sanker chose the Cardinals over Georgia and Miami. The Bulldogs had long been a program in the thick of Sanker's recruitment.
The people at Louisville changed things.
"After all these guys started committing and I started getting around the people a little more, I think that changed my outlook on the school," Sanker said. "I knew who Louisville was. I liked them, but they weren't my favorite school. After I got around all these guys they were a top school for me."