Brian Kelly: 'I want to win every game we play'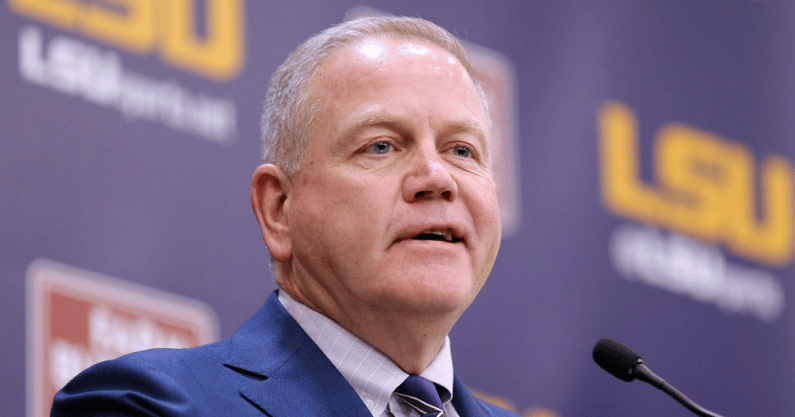 New LSU football head coach Brian Kelly had a large task ahead of him this offseason, rebuilding the roster through the transfer portal and on the recruiting trail in an attempt to win big games in 2022. The large overturn has produced an interesting core with plenty position battles for the Tigers to sort through.
During an exclusive interview with local television station Fox 8, Brian Kelly broke down what he will consider a successful season in 2022 and provided his approach to win every game.
"I think playing the game the right way," said Kelly. "Four quarters of football, a team that is competing. I am much more about process, and the outcomes have always taken care of themselves. If this team plays hard, plays smart, plays with the right traits, we're going to win a lot of football games. And I don't know if I've ever gone on into a season saying, 'Hey, I think we're going to lose three or four.' I want to win every game we play. And we're going to prepare to win every game.
"But we have some holes and we're going to have to address through recruiting. I think everybody knows we had 36-39 scholarship guys when we went to play in the bowl game. But I think this is a football team that's poised to surprise some people and I'm looking forward to it."
Brian Kelly updates quarterback competition
Some major college football programs have already announced who their starting quarterback will be heading into summer training camps. However, the LSU Tigers and head coach Brian Kelly were not a part of that group.
"Well certainly that's unintended consequences of that," said Kelly, in response to whether he planned on not naming a starter to prevent one of the quarterbacks from transferring. "I don't think we went in there with that game plan; let's get this thing muddied so nobody can transfer. Here's what happened. We needed to put a new offense in and that offense really needed to take precedence over fitting it towards any one particular quarterback. And the reality is each one has a different skill set.
"So what will happen now is that when we go into camp, the real work begins, because we're gonna have to fit the offense to each one of their skill sets. So the separation will take place in preseason camp."