Brian Kelly explains what LSU must accomplish in quarterback competition this fall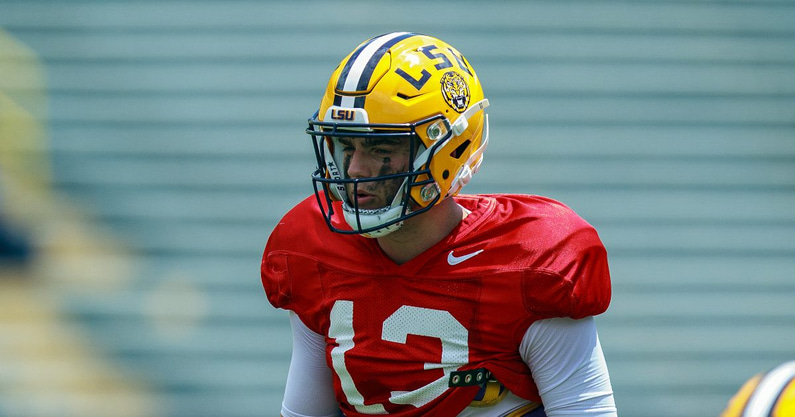 After the LSU Tigers spring football game, head coach Brian Kelly explained what the focus was during spring practice for his four quarterbacks. Kelly explained that the spring offseason was predicated on installing the Tigers' new offense. And during a recent interview with a local news network, the LSU headman doubled down on that point.
"Yeah, you know again, and I've said this, and you've heard me say it many times, is that we needed to install the offense; that was the most important thing," said Kelly. "Nomenclature, vocabulary, signaling all that had to get put in. So it really didn't lean towards and feature the skills of any one of those four quarterbacks. Now when we go into preseason camp, we have to focus on what parts of those offenses really work for those individuals. That's when we'll have the holes in now, we'll go to the part of the offense that fits each one of those and that's when we'll start to see some separation."
Incumbent quarterback Myles Brennan has looked impressive since returning to the team. Brennan was named LSU's starter before last season, beating out Max Johnson. But after a preseason injury sidelined him, the senior jumped into the transfer portal. After a month in the portal, Brennan returned back to the program. Brennan is one of three likely candidates to take over the reins as starting quarterback for LSU. The senior is in a fierce battle with redshirt freshman Garrett Nussmeier, who saw ample playing time towards the end of the 2021 season. Recently added to the mix this offseason is quarterback Jayden Daniels, who transferred to LSU just before the start of spring practice.
Kelly comments on his LSU salary
The LSU Tigers football program made one of the biggest coaching moves of the year when they pried Brian Kelly away from the Notre Dame Fighting Irish. Some have speculated that Kelly left Notre Dame because of the impressive salary that LSU offered. However, during a recent interview, the Tigers new headman had a simple response to that accusation, 'I've never chased the dollars.'
"Well you wouldn't be in this for 32 years, like I have, if you were chasing dollars," said Kelly. "If you're chasing dollars and that's what motivates you, I would have been out of this a long time ago because I would have probably been fired. I've never chased the dollars. And quite frankly when you think about it, the big contract, it's almost disrespectful to LSU when people say well coach Kelly went for the money. I would never have taken a job for a little bit more money if it wasn't the best job. I had a great job, this is a better opportunity for me. So people really need to understand that, is it a great salary absolutely and I'm blessed to have that but, it's the job. It's LSU that's really why I'm here; because you don't leave a situation like Notre Dame unless it's a better opportunity for you."
LSU and Notre Dame have two of the most prestigious athletic programs in the country. And speaking strictly on football, both are consistently among the top teams year in and year out. So, while coach Kelly's decision might not have been financially motivated, one thing is for sure; he will remain with a program that gives him an opportunity to win a national championship.