Brian Kelly on LSU blowout loss vs Tennessee: 'That was not what we had planned'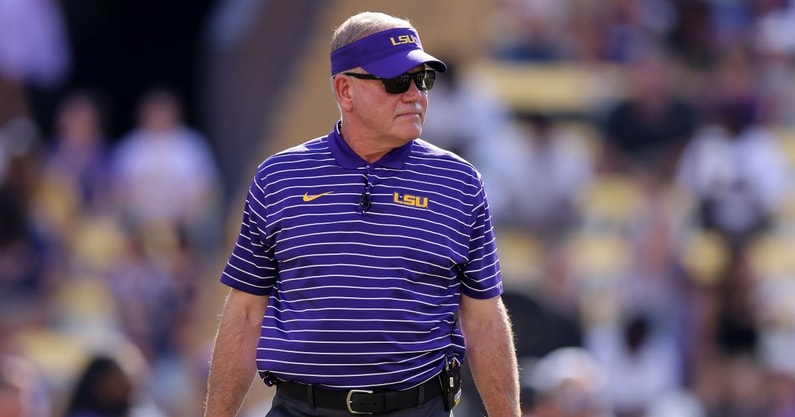 The LSU Tigers fell hard at home on Saturday at the hands of the Tennessee Volunteers. Tennessee dominated for much of the game, taking a 23-7 lead into the half, and won by a final score of 40-13. After the tough loss, LSU's head coach Brian Kelly gave his thoughts on the blowout loss.
"Well, that is not what we had planned nor expected," said Kelly. "We expected to play much better than that. Certainly, when you fumble the opening kickoff and give an extra possession to a team that plays fast and loves extra possessions, then give them another three points…and on special teams, put yourself in a huge hole, that's what we did. Our details were not very good.
"I could stand up here all day; that falls on coaching. That's on me, and I have to coach better. We've got to coach better. We've got to coach our team better. That's the team we have, and we gotta coach them better. Congratulations to Tennessee. They played well today. They were the better football team, and they certainly deserve the win today."
LSU's offense was able to keep up with statistically the best offense in the SEC this season in Tennessee. Unfortunately, penalties and failure to convert fourth downs in the first half put the Tigers in basically an insurmountable hole. The Tigers had nine penalties for 81 yards.
With LSU firmly within SEC play, the Tigers must shake off this upsetting loss and prepare for next week's opponent. Next week LSU will travel to the swamp in Gainesville, FL, to take on the Florida Gators in an evening matchup. The game is scheduled to kick off at 6:00 p.m. CST on Saturday.
Self-inflicted mistakes killing LSU early
LSU's decision-making has been a big part of the problem in a first half that Tennessee stormed out to a 23-7 lead in. Unforced mistakes also contributed.
The Tigers fumbled the opening kickoff when Jack Bech couldn't handle it, and the Volunteers jumped on top.
It took just five plays for the Tennessee offense to open the scoring, capitalizing on a 1-yard touchdown run by Jabari Small. LSU then opted to go for a fourth-and-4 from the Tennessee 14-yard line later in the first quarter, only for receiver Kayshon Boutte to be denied, stopped short of the sticks by Kamal Hadden and Trevon Flowers.
The Volunteers would turn that into a Chase McGrath field goal.