Brian Kelly opens up on process of rebuilding culture at LSU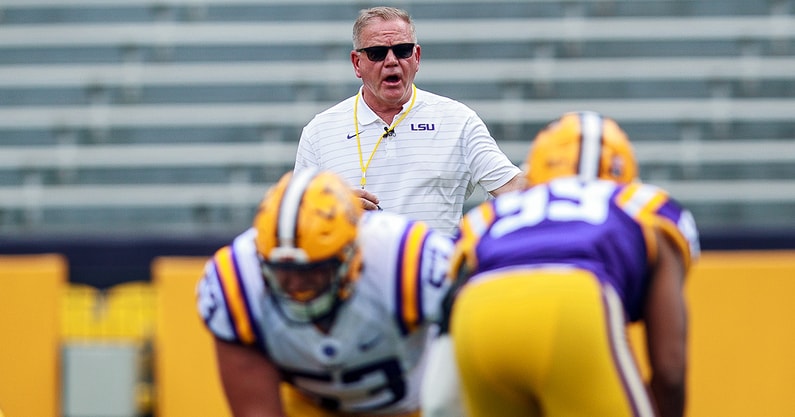 Brian Kelly is a program builder. Part of the reason he was brought to LSU was to rebuild their culture, and that's exactly what he plans to do.
Still, you have to break some eggs to make an omlette. In an interview with Jacques Doucet, the former Notre Dame coach spoke about how he builds a culture, and how to weed out some players who simply aren't a good fit.
"You set a bar, and some know that they can meet and exceed that standard, and some really find that this is not what I can do," began Kelly. "They're going to look for an easier path. So, we just set those standards. We're not looking to run anybody out of the program. I'm a player-development guy. I want guys to succeed.
So, we put a standard together — guys have to choose that this is what they want to do. Some just can't reach that standard."
It's not personal for Brian Kelly, but if you can't reach the bar he's setting for his team, you'll find yourself in a different uniform. LSU has needed a reset after the last couple of season, and it looks like they have the right man at the helm to lead the way.
Brian Kelly discusses his memories of watching 2019 LSU offense
Furthermore, Brian Kelly was just like us in 2019 — enamored with the ability of the LSU offense, led by Joe Burrow.
It was a legendary season that even the best minds in college football stopped to marvel at. Now, Kelly may not have ever imagined he'd be coaching the Tigers in 2022 while watching Burrow go to work, but the former Notre Dame coach is looking to return the program to form under his watch.
In an interview with Jacques Doucet, Kelly spoke about his memories of watching the LSU offense during their dream season.
"I think everybody watched that prolific offense," started Kelly. "It got overshadowed a little bit, but the defense was really good too, certainly. But when you're watching college football, I don't think anybody could not watch that offense. It was so prolific."
While LSU couldn't keep the standard they built during that season, Brian Kelly is trying to build something sustainable for the Tigers. Still, the 2019 season is the high-water mark — what the former Notre Dame coach will aspire to return to as he rebuilds the program.