Brian Kelly says LSU is undecided on starting kicker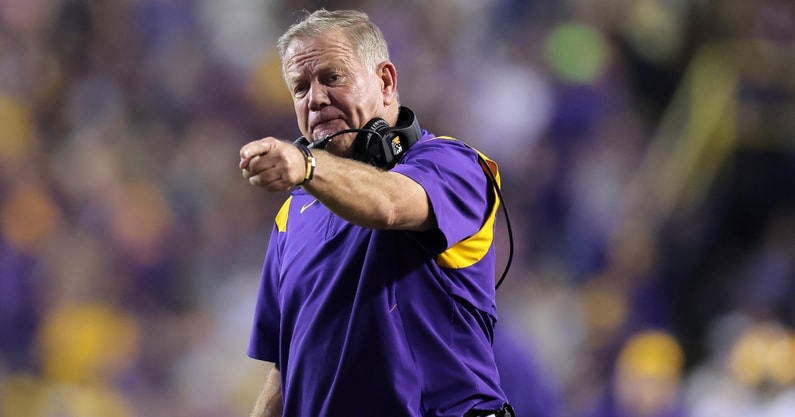 The spring ball position competition is one of the biggest fodders for discussion during the offseason for college football teams. There are just a few positions where the people likely aren't going to engage in big debates.
One of those positions is kicker. But LSU head coach Brian Kelly and the Tigers have a kicker competition on their hands between Damian Ramos and Nathan Dibert.
"As it relates to the kicking game, it's clearly not a position where we've decided on who the starting kicker is," Kelly said after the team's spring game. "I think Ramos and Dibert are still competing for that kicking position. We saw today that both of them had misses. We have to keep an open mind on it and we still have to keep them competing."
Dibert, a sophomore out of Michigan, is a lefty kicker while Ramos is a righty. The two also competed last offseason for the starting kicker role, which Ramos won.
Ramos was 55 of 57 on PATs and 10-for-14 on field goals last year for LSU. His long was a 47-yard make.
Unlike kicker, Brian Kelly's quarterback situation is much more settled
Like with his two kickers, Brian Kelly also has two players who competed for the starting position at quarterback last year in the room once again.
The difference is Kelly has someone much more entrenched in the role in Jayden Daniels. The former Arizona State quarterback is very much expected to be the No. 1 man come September. He notched 2,913 yards and 17 touchdowns through the air last season against just three picks. He also added another 885 yards and 11 scores running the football. 
Now, Garrett Nussmeier is a more-than-capable backup who could probably start for many teams across the country.
But right now, Daniels is the expected starter until further notice — even if Kelly won't announce it.
Both players played well during the spring game. Daniels was 10-for-11 for 168 yards and two touchdowns while Nussmeier completed 5 of 8 passes for 139 yards and two touchdowns.
"I thought the quarterback, in Daniels, was very efficient. Played very well," Kelly said after the spring game. "I thought Garrett Nussmeier, equally as efficient, and at times doesn't have the same protection that the Jayden does. And given those circumstances, you can make the case that he was equally, if not better, in some instances. So, pleased with the quarterbacks."