Brian Kelly slams NCAA, calls for SEC to set new NIL standard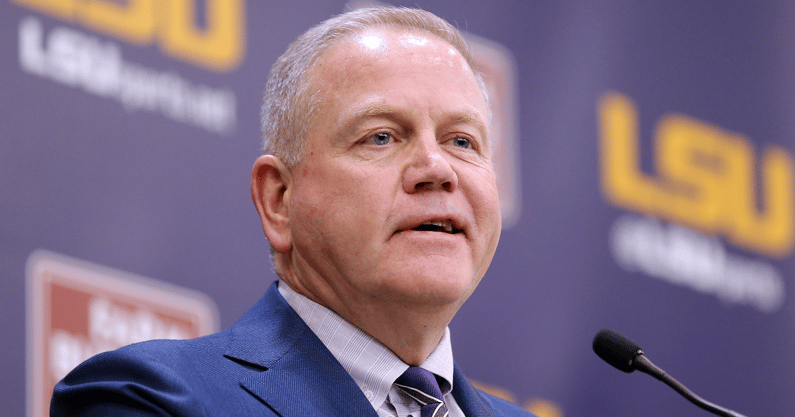 Brian Kelly is not alone in his belief that the rules surrounding NIL have to change. A report surfaced Thursday evening that college leaders were set to propose that the NCAA enforce new guidelines regarding name, image and likeness, and the LSU football coach is one of many in agreement.
Kelly appeared on the Off the Bench podcast on Friday, where he revealed he has already been in contact with several SEC coaches regarding the issue of NIL. He also said the group has plans to meet in person later this month, where they hope to come up with a plan that sets a standard the rest of the country can follow.
"We've had a couple of conversations already about NIL," Brian Kelly said. "We've got a conference call Monday and then Memorial Day weekend we go to Destin for our conference meetings. We're all kind of grappling with the same issues and, quite frankly, nobody's very comfortable with where we are right now. I think the SEC has to really take a lead. The NCAA is not going to. We know that. Our conversations have really been directed at, 'What can we do as a conference to set a standard relative to name, image and likeness?' It's not binding, but if the SEC doing it, I think a lot of people will follow."
More on the NIL controversy and potential changes
Last July, the NCAA implemented policy regarding players' abilities to profit off their name, image and likeness. However, it was fairly vague, and boosters are starting to find ways around it. That's why SEC commissioner Greg Sankey and Pac-12 commissioner George Kliavkoff met with U.S. Senators on Thursday to fight for a congressional mandate to regulate NIL.
The NCAA Transfer Portal is at the forefront of their concerns. Although it is illegal for schools to try to entice players to enter the portal with promises of NIL deals, many believe that is already taking place. Most recently,  Pittsburgh star wide receiver Jordan Addison put his name into the portal and rumors swirled of an NIL deal waiting for him if he heads to USC. Those rumors started before Addison entered the portal, which is why Pitt coach Pat Narduzzi accused USC and coach Lincoln Riley of tampering.
That's not the only time it's come up, though. Earlier in the offseason, The Athletic reported an unnamed five-star recruit had an $8 million NIL deal waiting for them once they committed.
Roger Wicker, one of the senators that Kliavkoff and Sankey met with Thursday, claimed these offers stem from the NCAA failing to use clear language in its interim policy, which has created a gray area that many boosters are willing to exploit.
"I support student-athletes benefiting from the use of their name, image, and likeness," Wicker said in a statement to Sports Illustrated. "However, the NCAA interim policy did not establish clear guardrails to prevent pay-for-play schemes or transfer inducements. This policy has created confusion for universities and a large gray area that could benefit bad actors. I'm continuing to monitor this situation closely to identify areas for improvement. Whether that solution will come from the NCAA, state legislatures, or Congress is yet to be seen."
On3's Nick Schultz contributed to this report.