Brian Kelly: I would not have danced with Walker Howard at Notre Dame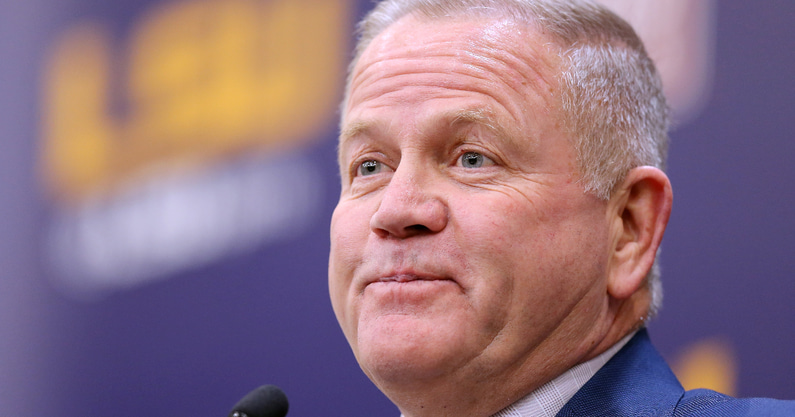 It didn't take long for Brian Kelly to go viral after taking the LSU head coaching job. His dance with Walker Howard lit up social media, and it was quite a way to start his tenure.
The video in question featured Kelly dancing behind Howard to the tune of Garth Brooks' version of "Callin' Baton Rouge." It was a different side of Kelly — one fans didn't see when he was the head coach at Notre Dame.
He confirmed this week he likely wouldn't have showed off those moves if he was still in South Bend.
"I would not have done that at Notre Dame," Kelly said during an interview with Jacques Doucet. "It's just a different place, a different time. I've always kind of looked at my situation and said I think as a leader, you've got to always shift and change and look to improve and sometimes, reinvent yourself. I don't know if I've reinvented myself in all those areas.
"But when a young man looks at you and says, 'Coach, let's have some fun with this,' why not? I think sometimes, we get a little too caught up in what other people think instead of the people that are asking you to do some things. I had some fun with it, and I'm glad I did."
That wasn't the only time Brian Kelly became a Tik Tok star
Shortly thereafter, Kelly appeared in another viral Tik Tok video with recruit Danny Lewis. Ole Miss head coach Lane Kiffin was among those to share their thoughts on it, and Kiffin even asked Kelly if his account got hacked.
"Did you lose a bet or something @CoachBrianKelly??" Kiffin wrote. "This can't be real. Photoshopped? Account hacked??"
Lewis ended up committing to Nick Saban and Alabama, but the video with Kelly in Baton Rouge lives on.