Ed Orgeron recalls valuable lesson learned from Pete Carroll on blocking out negativity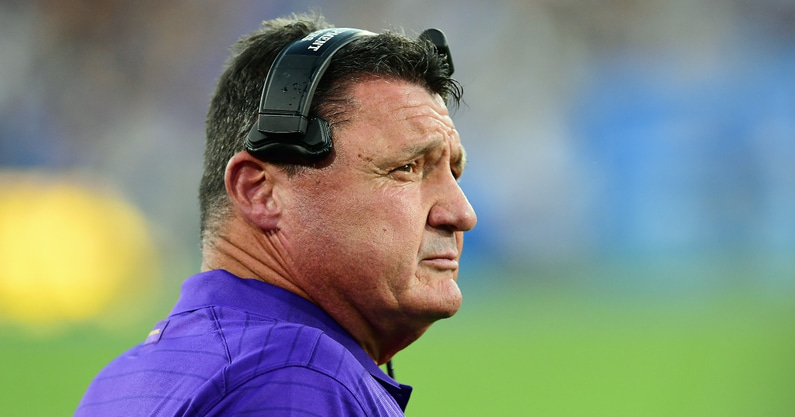 Ed Orgeron has been coaching college football for almost 40 years, ever since getting his start as a graduate assistant with Northwestern State in 1984.
Naturally, the 60-year-old LSU head coach has learned from some of the brightest minds in the sport along the way, including Jimmy Johnson, Dennis Erickson and Pete Carroll. Now, as the Tigers are coming off back-to-back SEC losses to Auburn and Kentucky, and LSU fans calling for his job, Orgeron remembers one particular bit of advice Carroll gave him during their USC days years ago.
Oregeron isn't blind to the swirling criticism from fans, donors, alumni and pundits in the media, but credits Carroll — the longtime Seattle Seahawks head coach and former mentor — for teaching him a valuable lesson about blocking out the noise in times of adversity.
"Being at Ole Miss I used to read that stuff and my family had to read that stuff like that, then after I got fired from Ole Miss I told myself I'm not going to read that stuff again," Orgeron said on this week's SEC coaches teleconference.
"I learned that from Coach Carroll. Pete Carroll said 'Eddie, don't read it, because when you're doing good because they'll make you too good and don't read it when you're doing bad because the will make you too bad.' It's just trying to stay level, trying to stay in-between and take it one day at a time."
Orgeron and Carroll have have a strong history from their time together at USC.
Ed Orgeron born understanding LSU expectations
The SEC looks more competitive than ever. Yet, in a wide-open SEC West following last week's Alabama loss at Texas A&M, the Tigers (3-3, 1-2 SEC) are on the outside looking in just two years removed from going undefeated and winning the national championship in 2019.
"I understand the expectation of LSU, I was born with it," Orgeron said. "We have expectations in here, all we can do is go to work, take it one day at a time and give it the best shot we can. That's what we are doing."
Given the history of coaches in Baton Rouge, it's obvious the narrative can change in a hurry. With the LSU brass and fans at large agonize over each subsequent loss, the Tigers' schedule doesn't appear to allow for any breaks, including No. 20 Florida coming to town Saturday. That is followed by back-to-back road games at Top 15-ranked Ole Miss and Alabama in two of the next three weeks.
Of course, Orgeron isn't focused on what's ahead, or even what's going on outside the LSU football complex — even if that's not always easy for other members of the team.
"We don't pay attention to what's going on out there," Orgeron said. "I'm sure our players listen to it. People around the program are listening to it, and I understand it's pretty bad. I get that. But my job is to come to work with a positive attitude every day and do the best job I can on a daily basis.
Florida enters Saturday's contest as a significant favorite. Now would be the ideal time for Orgeron and LSU to pull off a much-needed upset.