Ed Orgeron opens up on his life away from college football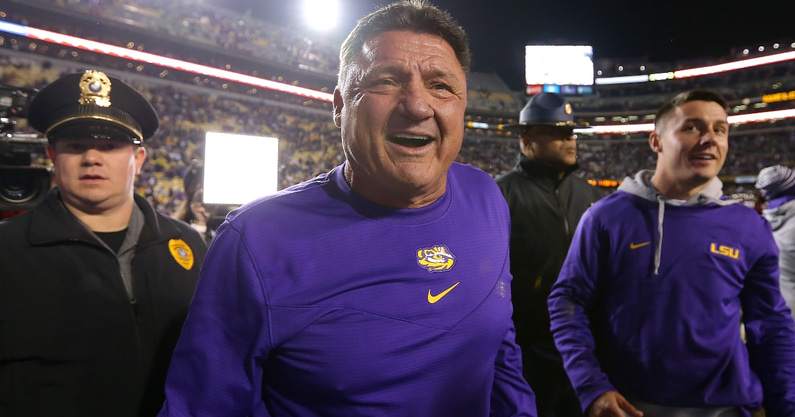 After six seasons and winning a National Championship in 2019, former LSU head coach Ed Orgeron has a lot more free time on his hands. Orgeron wasn't hired to a new job after agreeing to part ways from LSU. Since the end of the season, he's since been enjoying his life away from football.
Orgeron was one of the more recognizable characters in all college football. In a recent interview on 1010 XL in Jacksonville, he talked about how he's now spending his free days. Even if you don't know much about 'Coach 'O', it wouldn't take long to guess what all is on the agenda.
"Weightlifting. Running. Eating. Going out with my girlfriend," said Orgeron in his humorous reply. "Laying low. Taking care of my kids. I don't think I've put a TV on since January."
Considering the scrutiny that came his way as his LSU tenure ended, unplugging was likely the way to go. After going undefeated and winning it all in '19, he finished his career 11-11 in Baton Rouge. Even with the short turnaround since he won the program a title, Orgeron was still out by the end of the 2022 season.
He may not be watching TV, but Orgeron says another piece of technology has won him over.
"I got this thing, what's it called? Alexis? I just learned how to work her," he said. "I say 'Hey Alexis, play Fleetwood Mac'. It's pretty cool!"
There's no telling when or if Orgeron will be back in the college game. If not, it would be in the best interest of one of the many media networks to get him on air as he continues to be soundbite gold. Either way, it sounds like he's doing just fine in the first few months of his 'de facto' retirement.