Ed Orgeron addresses LSU's decision to fire him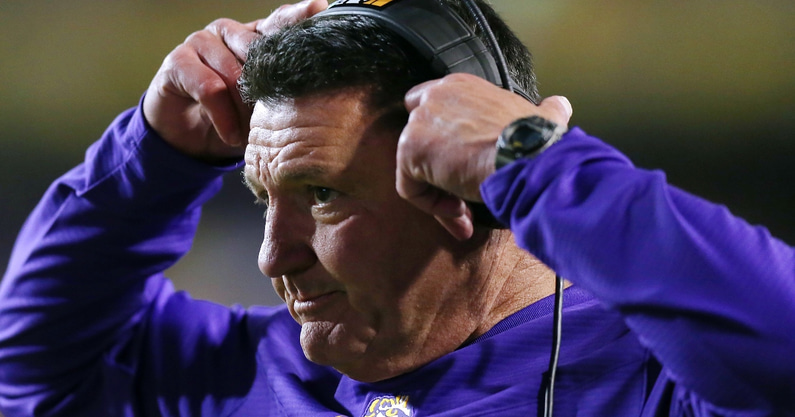 Although he's now unemployed, Ed Orgeron isn't walking around with his head down by any means. Instead, he's enjoying life by traveling and doing whatever he wants to do. With no coaching responsibilities to tend to and plenty of money in his bank account, Coach O is free to do what he chooses.
Just months removed from his last game as LSU's head coach, Orgeron – who led the Tigers' program from 2016-2021 – joined the Dan Patrick Show and addressed LSU's decision to fire him. And while no one enjoys being fired from a job, Orgeron said that he doesn't have any bad blood with his former school and understands why he was let go.
"Yes," Orgeron said when asked by Patrick if LSU was fair to him. "I do believe that. Listen, I left LSU with no regrets. I knew that one day it was going to happen. Look, you can't have two losing seasons at LSU – that's the standard. We set the standard at 15-0. They gave me a great settlement. I don't have to work again in my life if I don't want. They were very fair to me."
LSU was certainly fair to Orgeron, as he and the school agreed on a buyout of $16.95 million, which will pay him in monthly installments through Dec. 2025. He has received two payments so far – one for $5.68 million in December and one for $667,000 in January. He's scheduled to receive his next payment of $1 million in June.
WATCH: Ed Orgeron tells crazy Adrian Peterson recruiting story
Ed Orgeron was one of many coaches in pursuit of Adrian Peterson in 2004. The former LSU coach was then an associate head coach at USC under Pete Carrol, and had a strong relationship with the running back from Palestine, Texas.
In an interview on the Dan Patrick Show, Orgeron recounted a story from when he was on the recruiting trail with the future Hall of Famer.
"We go down to see Adrian – me and Pete," Orgeron said. "His mother ran track. Adrian and I had a great relationship. I felt like he and I were very tight. One time, he said 'Coach I want you to follow me.' We went 30 miles and stopped in this little country store. He bought a little gingerbread cookie — I couldn't buy it for him — for supper. Then we went to a basketball game. We sat in the gym and I said, 'What are we doing?' He said, 'See that guard right there? I've got to play him next week. I came to scout him.'
"I asked him, 'What is the key to get you here at USC?' He said, 'Coach, my dad is incarcerated and Bob Stoops went to see him.' Me and Pete Carrol tried to go see him but they wouldn't let us see him. Adrian said, 'May dad will be able to watch my games where he's at if I go to Oklahoma.' I tried to get the guy transferred to Los Angeles. I competed. Couldn't get it done, but I competed."
On3's Chandler Vessels contributed to this report.