Garrett Nussmeier provides update on relationship with Jayden Daniels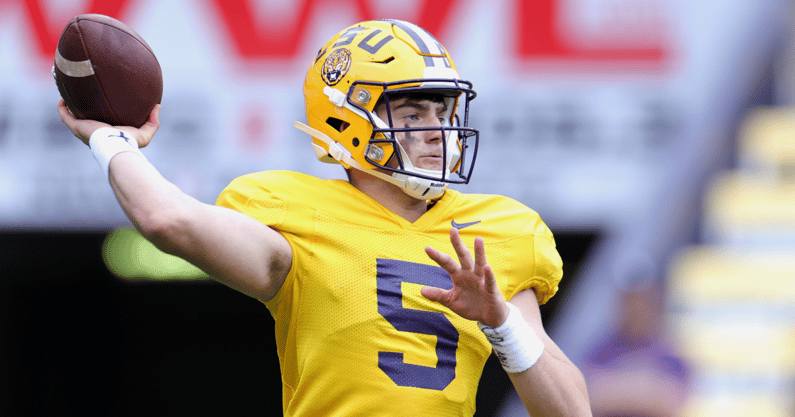 The Brian Kelly era at LSU will begin with either Garrett Nussmeier or Jayden Daniels at quarterback — but the duo isn't letting that sour their relationship.
Business picked up when quarterback Myles Brennan decided he was done with the game of football, leaving the Tigers to choose between Nussneier or Daniels as their signal caller. While some may believe that would cause friction between the quarterbacks, Nussmeier believes the two still have a solid relationship.
"We try not to think about it like that," Nussmeier responded, when asked if LSU will need both quarterbacks in 2022. "You just think about, if I'm in then you know, I think Jayden would say the same — he's going to support me. If Jayden's in, it's the same and I'm going to support him.
"Like I said, we're focused on one goal and that's for LSU to win games."
Continuing, the LSU quarterback added some praise on the game of Daniels, stating that there's many things he learns from the transfer thrower.
"He's a helluva player," began Nussmeier. "He's great with his feet. Got a great arm. There's a lot of things I take away from watching Jayden every day."
As you can see, Garrett Nussmeier and Jayden Daniels will be supporting Brian Kelly's decision regardless — and that bodes well for the success of LSU in 2022.
Brian Kelly provides thoughts on Jayden Daniels, Garrett Nussmeier amid competition
Continuing, Brian Kelly discussed what he is seeing in the LSU QB competition during his press conference on Wednesday. He says while they're placing more of an emphasis on taking care of the ball, the pair have down well with timing, protection and operation as a whole.
"I thought what they did well was distribute the football on time, protected themselves. I thought yesterday we made some untimely errors. We threw a couple interceptions in the red zone. You can't turn the ball over. I thought they were very good with the football today," said Kelly. "I don't like talking about managing because (it) gets a definition that they're just doing well enough to get by. They were smart with the football today, they made plays and I thought did a really good job of operating."
Those thoughts were in general, though. It was later on that he highlighted some of the specifics between Daniels and Nussmeier. Daniels, the more experienced of the two, has used his athleticism to excel in some of LSU's run-pass schemes according to Kelly. Meanwhile, Nussmeier has done well in reading the defense in their zone action.
"In particular I thought the ball came out of Daniels hand really well today, especially off the RPOs. It was accurate," Kelly said. "I thought (Nussmeier) made some really good reads off of zone read action, which has been one of the things that we've been working on. So, in particular, those two things (stuck out) for each one of them."
Brian Kelly is coming down to the wire in picking LSU's starter come September 4th. Brennan's decision made things easier but he still has two great options to pick between for the Tigers. Now, with the season nearly upon us, he'll need to wind down to one before they kick off against Florida State.